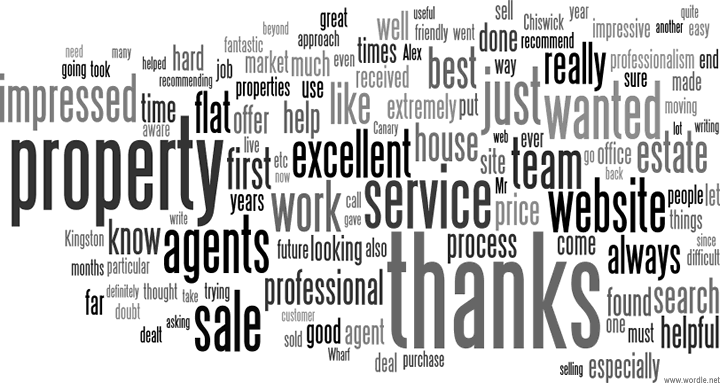 What our clients say...
I would just like to extend my feedback to say how refreshing it was to be looked after so well by Jack at the Earlsfield branch. We have dealt with a great deal of estate agents on our property search and Jack by far stood out as the most professional, hands on, helpful, communicative and dedicated salesman who went above and beyond for my husband and I. We were so thrilled to finally find our dream home and this was down to all of Jack's efforts. Jack and Foxtons Earlsfield (including Ed who was equally as efficient), we can't thank you enough. I will certainly be recommending Foxtons Earlsfield to friends who are also on the property hunt at the moment.

V. & G.

5

Loui at Kingston was SUPERB, without his drive to get things done we'd still be waiting and the whole deal may well have collapsed. He is a credit to your company and was 100 times better than the agents I sold with!

M. O.

Ryan is a fine ambassador for your company and also for the estate agent industry in general; very polite, helpful and also very knowledgeable. 5/5, top marks!

T. R.

Matt has time and time again gone beyond the expectations I had. He has been extremely helpful, resourceful, clear and concise at every appointment. In follow-ups he has always been friendly, knowledgeable and ready to go that extra mile which I have not found any other estate agents too readily and happily do. I'm happy with the service he has provided and it's nice to not feel like just another number to another estate agency, as it is clear Foxtons is more in touch with their customers' needs than any other.

S. W.

5

I wanted to say what a fantastic job Jas did in selling our house in West Acton. We live in Australia and I was a little nervous about selling the property from overseas but Jas advised us brilliantly, was extremely professional and handled the whole business brilliantly. I am so glad I appointed him to sell the house and have no hesitation in recommending him and Foxtons to any of my friends. He is a credit to the company.

F. P.

5

Your agents were very kind and professional at all times, it was no mean feat working with a 96 year old resident who was leaving the only home she had known her entire married life.
I would especially like to mention Nicole, who is a credit to Foxtons. Nicole has the quality you hope for in an agent, but rarely find. Aunt was very taken with her as she took the time to listen to her concerns about the move, and still move forward with the sale.
I am pleased to say that Aunt is now happily residing close to her family, and busily making refurbishments to her new home. Thanks to you she is in her new home in time for Christmas.
Thank you Foxtons, I shall not hesitate to recommend your team to anyone selling in the area, or indeed, anywhere in London.


C. M.

I would like to put on record how impressed I was with the service received from Tanya at your Beckenham office. She was always pleasant when showing me properties, professional without being pushy. A pleasure to deal with.

A. G.

The staff were extremely friendly, clear and concise with regards to the sale of my property. I really appreciated the excellent communication and continuous updates that were received.

5

I am most sincere when I say I feel that I had the absolute pleasure to be guided by Joel and I would like to commend him on his exemplary management of the process throughout. As I'm sure you're aware, the purchase and moving process can be stressful and dealing with Solicitors and slow processes can be rather painful. Joel was consistently active, reactive, available and always extremely pleasant and genuine. I extend my sincerest thanks to him, and would like my comments to go on record because you really have an incredible person working for you! I wish him the very best with his career and no doubt he will have much success.

M. O.

Judith and I would like to thank you Joe, and all your team, for the excellent and professional way that you helped in selling our apartment from the initial marketing through to the final completion. Sam is a credit to your company; being extremely helpful, supportive and hands on throughout the whole process, always there when we needed him and extremely professional in everything that he did.We certainly would be happy to recommend you to any associates, colleagues and friends in the future. Thanks again for all your help.


J. K. & G. K.

I bought a house through the Pimlico branch. Charlie was a great negotiator and worked extremely hard to keep me informed of the progress and guiding me through the entire process, from finding the property to final completion. Top bloke as well.

G. M.

5

I recently completed on a property and would just like to say that the agent involved in the purchase and viewings prior to it, Laura, was excellent. She was at all times professional, attentive and was skilfully able to identify my needs and match them to suitable properties. Laura is a credit to Foxtons.

R. R.

We would like to thank Carly for her efficient professional and pleasant way in which she helped us. It was a pleasure knowing that she was on the other end of the line when we needed information or to arrange viewings etc. Thank you Carly, wishing you well in your job.

J. S.

I just wanted to say how impressed I am with Vicci. She has been very efficient, patient and most of all informative at every step of the way during my sale with Foxtons. I knew that I could trust her and rely on her when I was too busy to chase things up. Thank you to Chris and the whole team. I am pleased to say that I have been telling all my family and friends about the service I have received from Vicci. I will definitely use Foxtons Greenwich again!

W-M. C.

5

I would just like to leave some feedback for Stuart of the Canary Wharf branch. His attention to detail and assistance in searching for our requirements was absolutely outstanding. We were in touch with around nine agents of various companies but Stuart's service was by far the best we experienced.

T.

Foxtons at Willesden Green recently sold my flat in Kensal Green and I wish to record how satisfactory I found the whole process. I doubt whether any other agent would have got such a good price and was impressed the way things were handled all the way through by Brodie and David, both of the Willesden Green office. I would have no hesitation in recommending Foxtons to a friend/associate, or to use them myself again in future.

I.

5

Now that we've completed on the sale, I just wanted to say a huge thanks to both of you for making it happen. Josh, you were absolutely fantastic in securing an offer from committed and motivated buyers, after a long and difficult history with the flat. James, you were completely brilliant in making sure the whole thing went through and communicating with me and everyone else. At all times, I was really impressed with your professionalism. I felt I was always kept up to date and in really safe hands. This sale is so important to us and I'm really grateful to you both for making it happen.

I would like to thank Patrik from your Islington branch. We met many estate agents in our search for a flat, but my husband and I both agree this young man stood head and shoulders above the rest. He is to be congratulated on his professionalism, manners and tenacity.

P. K.

I just wanted to comment on the wonderful service I received from Chloe at Foxtons Beckenham. Chloe was extremely friendly, helpful and professional in all my dealings with her. She kept in good contact with me and always returned my calls quickly. She worked very hard for our sale and I really appreciated her. She is the reason I would recommend Foxtons.

C. M.

5

My husband and I recently bought a tiny studio apartment through you and with the help of Kate. I just want to say what a delight Kate is. She is endlessly positive, helpful and energetic. She is on top of all communication with really fast, efficient and effective responses. Even though we were only buying something which was quite small in relation to most of your clients she never once brushed us away or ignored our queries - quite the reverse.
She is a fabulous asset for Foxtons Pimlico.

M. B. & M. R.

My husband and I have recently been looking to buy our first home and were looking at a few properties in Stratford. We had the pleasure of being helped by Oliver and just wanted to pass on a positive note on our experience.

Buying your first home is scary, it involves dealing with a whole vocabulary that you've never felt any need to understand and a whole section of the population that you've never come across ie. Mortgage Brokers, Bank Managers, Estate Agents, and Vendors etc. each with their own agendas. We have probably seen close to 20 properties over the last two months and dealt with various versions of the aforementioned people.

Oliver has been by far the most trustworthy, friendly, smart, professional and of course well-dressed of the bunch. Hands down! From word go he impressed me, when I mentioned that my location search was based on how long it takes to cycle from Old St. to the house. This is a request where most estate agents look at me a bit oddly and move onto the properties in their patch. Oliver proceeded to calculate the cycle time for all of his properties and send the relevant ones to me. At this point I was pretty much sold on Oliver and I hadn't even spoken to him! He made my life easier and most importantly, didn't give me a list of things I didn't want to see. Every time he called me or emailed me, I knew that what he was sending would be of value.

His ability to listen and take note was far far over and above every other estate agent we dealt with. And on top of this, as I'm sure you know, he's just a really nice guy that is super easy to get along with, making the millionth viewing not so arduous or taxing, but rather a pleasure.

We just wanted to say that he gives estate agents and Foxtons a good name. We're sure he's going places, and will be my first recommendation for anyone looking to buy in Stratford.


S. S.

We have just exchanged and I wanted to send you a note on our experience of working with Sam to praise his efforts.

He has been great to work with - very professional and always very helpful and polite. We have dealt with a number of estate agents over the years and know full well how an already painful process can be made infinitely worse if you work with someone who is unpleasant / unknowledgeable.

Thankfully Sam has been excellent (one of the best we've met). In a number of cases he went above and beyond - so we wanted to tell you that we really appreciate all his efforts.

A. H.

Being only 20 years old not many estate agents take you seriously and whenever I have been to a viewing they have always either been dismissive or just not made a huge effort in selling the property in question.

Zeno took me to see various properties and when I mentioned to him that I was also having a look in the Colindale area he mentioned he took care of that area too and offered to maybe take a drive to see the area. This has never been done any other estate agent that I have encountered.

Another key skill that I would like to mention that Zeno has is a vast knowledge of the properties he is selling. Zeno…was able to answer all of my questions with regards to the property, its amenities and even who decorated the show room apartment and provide me with the details of other companies that could carry out a similar job. He was also available at any point during the day for me to contact him and kept me updated on a daily basis something which is key for a first time buyer like myself as this can be quite a stressful time.

I just wanted to bring this to your attention and how I will be recommending him to everyone I know who are in the process of looking for a house.


M. S. M.

I would like to thank Bertan from Enfield's branch for all the hard work and attendance he had provided us. I would highly recommend Bertan to anyone I know who would look for a property in the future.

M. M.

5

It was refreshing to be shown a number of different types of properties, all of which met my requirements. Louis took the time to carefully select the properties, so as not to waste my time, which I have discovered to be somewhat of a rarity. Furthermore, Louis was armed with all of the background information for the properties during my viewings and he promptly followed up and answered my telephone queries.

Whilst the above may sound like standard practice, I've all too often come across agents that do not follow such an approach. I've experienced arrogant agents showing numbers of irrelevant properties in irrelevant areas with no real understanding of what the purchaser wants. Louis was not like this and I therefore wanted to make you aware of the brilliant service being offered by him.


M.

We have recently sold our property through Foxtons and the agent involved was Sofia. This is the first time I have sold and bought at the same time and it was very stressful process and at some point I was going to stop everything, luckily your Agent Sofia was there with her support and guidance we managed to get through to completion. Now I know why Foxtons are steps ahead from the other estate agents, simply because you have people like Sofia who make the difference and make the things happen. Thank you Sofia.

E. M.

I want to highlight how helpful Ben has been in ensuring progress on a rather long drawn out lead up to exchange. I was worried the transaction would collapse but his efforts did finally result in exchange of contracts happening last week, and He gave me a lot of reassurance along the way, he is courteous, helpful, an excellent communicator, and prompt beyond the call of duty in returning calls.

G. D-P.

5

I wish to complement your excellent Sales Negotiator Miranda. She was, all through the purchase of my new apartment courteous, proactive and professional. The process was far straighter forward than it could be thanks to your excellent employee Miranda.

M. F.

I wanted to thank you very much for all of Foxtons' hard work in selling xxx.

I always had confidence in you and my confidence was not misplaced. Much of the success of your entire sales team must rest with you, and it seems that your skill in picking your staff is exemplary. Without exception, everyone with whom I have been in contact has been polite, efficient and pleasant.

The person I have had the most dealings with, of course, is Isabel who made the sale. I am extremely impressed with her. Not only is Isabel always very polite, she answers texts and telephone messages immediately which is a courtesy in itself and all too rare nowadays. I am fairly sure it is entirely due to her skill that our somewhat protracted and difficult exchange procedure was completed. I personally don't know what I would have done if Isabel had not always been at hand and had been always willing to find out the latest position and gently push it along. An outstanding young woman, you really do have a gem in her, she is a credit to you.

I am impressed with the way you run your Sales Team. The viewings system, always letting the vendor know timings in good time, the weekly telephone call and report and the way in which your team conduct themselves generally is praiseworthy.


P. P.

The team at Foxtons Guildford & Woking are complete professionals. This is the second unusual property they have sold for us in the last eight years, when others just failed. They are responsive, supportive, truthful and encouraging when the going gets tough and frustrating. We would absolutely recommend their very professional services. Thank you all at both branches of Foxtons.


K. T.

5

We had a long and stressful journey searching for our perfect home but the only thing that wasn't stressful was dealing with Foxtons! We were lucky enough to work with Keri who was massively supportive throughout - both during the search period, and then through the actual buying process as well. I am really grateful to the team at Foxtons (and particularly Keri) for everything they did for us and I would highly recommend.


S. D.

5

Kate was a great help for me in buying my first property. I really felt like she went the extra mile and offered good advice throughout. Being "chauffeured" by Foxtons staff to / between viewings is extremely helpful.

A. R.

5

I just wanted to drop you a line to praise one of your team members, Vicky. I have had the pleasure to collaborate with her for some time now as she is helping me in my flat search. Having been in this search for quite a while now and having met many professionals from different Real Estate agencies, I was keen to highlight the outstanding service that she has provided. She is sharp, driven, dynamic and persistent; she follows up and always has a smile and a positive attitude. Moreover, her property recommendations are spot on. It is an absolute pleasure to work with her in what can sometimes be an extremely frustrating experience!


N. F.

We will always be grateful to you for helping us find our first home. We have dealt with many estate agents during our property search but none have made us feel so relaxed and in safe hands as you. I think they can all learn a lot from you on how to deal with potential clients regardless of how big or small their budget is. The help and support you gave us while going through the purchase process was second to none. You really went the extra mile for us. We will definitely come and see you again if we are in a fortunate position to buy another property.

G. & N.

My husband and I are extremely satisfied from the service we received in the Chiswick branch particularly from Darina, competent, flexible and understanding…whenever we are ready to rent or to buy we would definitely contact her again!

K. H.

5

Annabelle possesses all the attributes necessary to be an excellent estate agent. She knows the market extremely well; she is diligent, responsive, and very effective in all aspects of her work. Annabelle is a very professional and charming individual. She clearly takes pride in doing a good job.

In my particular case as a landlord of a four bedroom house in Shepherds Bush, Annabelle was solely responsible for letting out my property. Over the last four years Annabelle was always very keen to find tenants that meet my requirements. She always provides extremely valuable market insights and recommendations that help me making important decisions. To my opinion she is running one of the most effective teams in Shepherds Bush for Foxtons.

It would be hard to envision someone doing a better job than Annabelle or being anything but happy in choosing to work with her and her team.

P.D.

We just wanted to say a huge thank you so much for Josue and Frank's help with securing the sale of our flat. They have both been really great and we have appreciated the high level of service, especially with making things as stress-free as possible.

N. S.

You may remember you helped me with renting the above property and this year I decided to sell. I merely wanted to say that Felicity at your Brompton Road office was terrific in handling quite a tricky buyer's solicitor and we complete this week thanks hugely to her efforts. Wishing you continued success and all the best.

S. J.

I just wanted to drop you a quick line to say how happy were with the service received from Patrik throughout the purchase of our property. We have had generally a terrible experience with other agents so it was refreshing to receive such great service. It has not been that straightforward, but Patrik has always remained really positive and polite to us and he has been majorly helpful in resolving and chasing the outstanding issues. In addition, he has been happy to assist with allowing our architect access which we appreciate is probably not high up on his priorities. The move went very smoothly and it was very straightforward to collect the keys. Overall a fantastic service which we cannot say of our agency!

A. R.

Agency very organized, very welcoming hence the fact that I took my apartment without physical contact because I am abroad. I recommend this company. Thank you Foxtons!

M. P.

I would like to highlight how much we loved having Darina looking after our search. Darina was just amazing, doing her best to find a perfect property for us even working long long hours to help us find the best place within our budget. We felt that Darina has done an amazing job.

R. F.

4

I would like to put on record that we very much appreciated James' contribution to our purchase of number 16 on which we exchanged last Friday. James was regularly in contact to help with accelerating the overall process and ensuring that everyone worked towards a common deadline. Without James' approach we would not have exchanged last week. So thanks to James and also we have enjoyed liaising with him.

J. C.

Having searched for and lived in a number of London properties prior to this one, I have encountered a number of different estate agents from various agencies. The reason I am writing today is that one of your staff members has stood out to me as being far more competent and sympathetic than any other estate agent I have dealt with over the last seven years I have been renting. Christiaan has been truly professional in all of his communications and manners, both with me, my partner, and viewers; over text message and in person. He knew as much about the flat as we did, and is unfailingly dynamic, polite and courteous. It has been a relief to encounter an estate agent as reliable as him.

C. D.

I was looking for a property for the last month in the Crouch End to Finsbury Park area. Kate was BY FAR the best, the most helpful, the most honest, the most fun and the most intelligent agent I used. She gave me loads of really helpful advice on everything from location to investment to layout and more. I'm writing this so that you know this and you can ensure she gets rewarded!

J. J.

5

I'm sure the sale of our flat would not have happened had it not been for the attention and commitment shown to it by the Foxtons team. For various reasons the sale became quite drawn out, requiring interventions by Jas and his team at various points to keep it moving along. What I appreciated most was the way the guys would always be on hand to talk through the current status of things and the options available to move them forward.

D. B. & J. B.

5

A big thank you to you and your team at both the Harrow and Pinner branches for selling our property. We received outstanding service throughout the selling process from everyone involved.
We chose Foxtons because other local estate agents gave us much lower valuations, based solely on square footage or room numbers. We put a lot of time, money and effort into the property and we believed the house was worth more, as a result. The Foxtons team agreed and set out to find a family who would love and enjoy the property as much as we had.
The marketing was exceptional and generated lots of interest. Such was the passion of the sales team, we felt totally confident leaving our house in the hands of Amirah, Keri, Sophia and Sara.
Shaun, in particular, went above and beyond the call of duty by providing invaluable advice that ensured our onward purchase also went smoothly.

M. & J.

Annabelle has been my "go to" person at Foxtons for several years. She's always been professional in her approach to the market, providing sound advice on a range of topics; price, the best tenants and helping me navigate through a period when I needed my property for personal use and moving to a short term let basis. In all the time Annabelle has been representing me the flat has been almost 100% occupied which is exactly what I want. Annabelle is very proactive and responsive to any questions or queries I may have. She also goes beyond her specific lettings role to ensure seamless handover to the management side. I really appreciate her work and enjoy dealing with her.

R. H.

We were very impressed with Annabelle's professionalism when renting our property: She gave us a valuation far higher than other agents quoted and achieved an asking price offer within days.

J.T

Chis is the the best agent we are dealing with - professional and client focused. Miles above the rest.

N.Q.

Jack contacted us when he knew that 27 Isis was going back on the market. The way that he handled the whole process from contact to final completion was completely professional. He is an asset to your team.

J.T.
Please let us know about your experience with Foxtons.