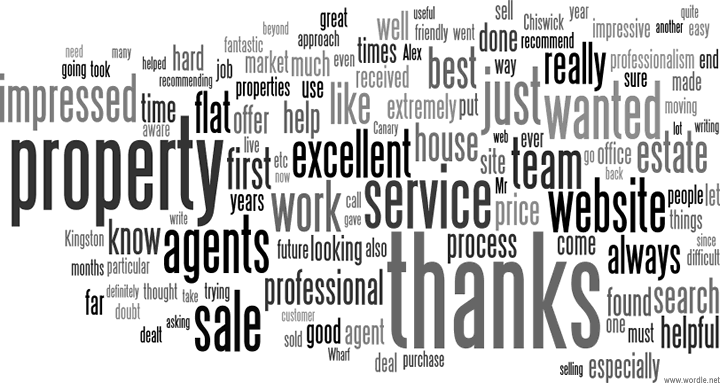 What our clients say...
I must say that Foxtons afford a well oiled machine with excellent service in relation to finding the property required, and the ensuing paperwork to the point of agreements being reached ---with tireless enthusiasm. This is the third occasion we have used Foxtons. Our experience with them is both on a rental, and sales perspective. I have total praise for the rental and sales staff at the newly opened Surbiton office All extremely well mannered, polite, and all round genuine people. Special acknowledgement to Jack---a true gentleman and professional negotiator. Likewise with James at the Kingston office. Greg the Manager at Surbiton, and all his staff are efficient,effective and polite in exercising their tasks right to the point of picking up the keys -----well done .

S.W.

We were impressed by the excellent service we had from Foxtons on the sale of our flat. Having a professional who had thorough knowledge of the market and full of tips and hints made the sale process easy. The planning and preparation was brilliant. Our agent was effective when negotiating as well as caring for tenant. When managing the marketing campaign we felt they were maximising the network to fullest extend. It was rewarding for us to know that there was someone at the end of phone any time we need help. I would recommed Foxtons as they are competent,responsive and exceptional at getting you the best deal. Our agent managed to build trust and we feel she prepared well and thoroughly so we were confident of achieving our objectives. We had great feedback as the customer orientated,organized and effective. Most of I admire Sarah's incredible motivation to do a fantastic job. Thank you Sarah for all your help.

R.V.

5

Gary recently helped us secure a sale on our flat. I wanted to write to tell you how excellent he was. The flat sale we recently completed wasn't straightforward, we had a buyer who presented us will all sorts of shenanigans including her own truculent neighbour and a surprise last-minute beloved cat, she dropped out, another person put in an offer, backed out, backed back in... usual flat sale dramas but Gary was always professional and helpful without being smarmy and fake, he's a can-do man and a great people person, seemed to be able to get the best out of the buyers and ourselves. He was also reliable, seems to work crazy hours and really good at keeping me up to date with weekly phone calls, which I wouldn't expect as our pokey flat won't have been the most exciting property on his list. Best of all, when there was bad news to deliver regarding buyers etc he delivered it promptly and straight, no procrastinating, blaming or bad-mouthing anyone.
I wouldn't hesitate to recommend Gary to anyone else wanting to sell a flat. I've bought, sold and rented out I'vemore than 10 properties over the last 10 years, in Scotland, London and Dubai and really he's up there with the best of them. He didn't ask me to write to you, I just thought it would be nice that you knew he's doing a good job and is an asset to your team.

A.B.

This sale was my first experience of selling a property in the UK. So was a novice with UK system. Working with Dan was not only seamless but exceeded my expectations from the start. He anticipated our needs and was supportive in guiding us in a professional efficient and empathetic manor. He kept us updated throughout; fantastic communication skills. I am sure most property sales are stressful but with Dan's sterling effort I think this sale was a lot less stressful for us. He was on the ball with the both solicitor's and did all and more I am. Sure, that was necessary to ensure smooth transfer of ownership. In fact we both think why have a solicitor when you have someone like Dan. He is a credit to Foxtons and he should be nominated for employee of the year!! If you need further info please contact me.

D.M.

5

Great service and Jonathan was very attentive.

R.C.

5

Dear Foxton management, I like to thank. Bianca for her excellent service in searching, finding and securing and offer which was accepted. I found Bianca very helpful and professional in all her dealings with us, the seller and the solicitors. I hope that she can be promoted and well recognized for the work she has done. The rating is 5 star. Also I found The finance side Mr. Michael very helpful. It is unfortunate that we are expats and when we move back to UK I will use your services again and recommend you to friends.

R.L.

5

Annabel was the negotiator handling my sale last year which was eventually aborted due to a very difficult buyer. Annabel handled the whole process extremely professionally and did everything she could to ensure both parties could come to an agreeable position, sadly the buyer wouldn't cooperate. Paul then handled the successful sale and was equally as professional in achieving the maximum price and keeping on top of any issues from agreed offer through to completion. I used Foxtons on the sale of my last flat in Pimlico and I would certainly use them again, thank you!

J.N.

5

To Ed, Hackney office: a huge thank you for all the brilliant advice, the continuous professionalism, the incredible foresight (- at least two occasions where you predicted and dealt with problems before they even arose), always being on hand, and going way beyond what would normally be expected. I could not be happier with the service and have already recommended Foxtons to anyone who I have talked to about the house sale. You have completely changed my perception of Foxtons. Thank you.

A.W.

5

Sonya is a very good professional

M.F.

5

Jonathan made a friendly and professional contact with me at the end of September when we first began our property search. He was helpful and informative and shared insight into a market that we were new to. He continued to stay in touch and his calls were never intrusive or bothersome. He spent considerable time sending particulars to us, knowing we had quite exacting needs due to our budget and circumstances and took Nick on some viewings. We have only been disappointed to not buy through Jonny as he deserved the sale!! He was supportive of our choice of property even though it was from another agent. He has extended a professional relationship to us and we would actively seek him out in the future if buying a property. His manner is refreshing and beyond any we have ever known from an estate agent. Thanks Jonny for your time, thoughts, considered opinions and help. Until next time!!!

S&NS

5

Hello Foxtons, Just wanted to give some feedback on Lauren at your Willesden branch. She really listened to what I was looking for and tried hard to find it.

L.H.

4

I was hesitant about using Foxtons but even their rivals know that few could try harder for you with your sale and this was certainly the case with mine. Every bump was dealt with in a professional manner and solutions were found for problems. I would not hesitate to recommend them to anyone else looking for a successful sale.

F.M.

5

Dealing with Mike was a pleasure. He was always polite, enthusiastic, positive, reassuring, intelligent, reliable and proactive. The first deal collapsed when the buyer withdrew at a late stage. Mike was unruffled, reassuring and quickly produced a buyer who offered the asking price. I highly recommend Foxtons.

R.L.

5

Lorraine, Many thanks for taking the trouble to drive me to see four properties on Friday and Saturday. I am very grateful for the time that we spent talking through my family circumstances and aims in relation to the purchase of a new property. Our conversations about the pros and cons of each flat were very helpful. I especially appreciate the fact that you were happy to talk things through, also, with my daughters. At no time did we feel under any pressure or obligation to make a hasty decision - this would certainly have put me off. Three of the four places that you selected for viewing would have been suitable for us because you took time at the outset to be clear about exactly what it is that I'm looking for. Well done! Having taken so much care, you have helped to reduce my stress in searching for a suitable investment.

I would like to praise and thank the entire Foxtons Temple Fortune Team. I had coverage to several of the team and everyone was as friendly, professional and helpful. In particular I would like to recognise the branch manager Nick. From the very initial meeting I had with Nick I knew the sale of my property was in safe hands. All the way through the process Nick kept me posted at all times and was exceptionally helpful. I had a few set backs in that my property sale fell through twice prior to the third sale completing, naturally I was most anxious and at times very stressed possibly even rude! Nick managed to keep me calm and help me to get to jump hurdles I am not sure I would have managed to do alone. Nick came through a recommendation from a neighbour who rents her property through the same Foxtons branch, I too will certainly be recommending Nick and his team to my friends/family. Thanks guys!

S.K.

5

Gillian and the team were great - especially when it came to pushing the sale over the final line! They were also really helpful with property matters while I was overseas and were constantly liaising between myself and buyer to get everything sorted as quickly as possible. Thanks so much!

R.P.

5

We have been VERY well looked after by Michael who has worked tirelessly out of hours on some occasions to find us a small investment flat He is a great asset to Foxtons and Ellie and I hope this is both noted and rewarded.

M.E.

5

Kelly was a great help throughout the process- chasing solicitors and keeping us updated with everything that was going on. We've had a bit of a fraught journey as first time buyers but Foxtons Croydon were the best agents we dealt with and we're thrilled to be in our new home.

C.B.

5

I had very good service and communication through my flat selling and I am very satisfied with this member of staff. Thank you so much.

H.A.

5

So far, so good. A way to go still. Thank you

K.A.

5

James was always enthusiastic, professional and courteous. He was genuinely pleased for us when our flat went ahead. Thanks again James!

E.C.

5

It was a good service from the viewing to exchange with constant communication between all parties being orchestrated. Can be deemed pushy but worked well for us since we were keen to complete before the April deadline and it has happened.

S.K.

5

Foxtons were extremely helpful through the whole process and went further than you would normally expect. We are very grateful for all their help.

G.F.

5

Miriame is just great: competent, energetic, efficient, reachable and polite - always on the ball ... and a good team leader too.

P.D.

5

I am looking to buy an investment property in London and have been dealing with Alex from the Beckenham Office. She has been extremely helpful in alerting me to properties meeting my requirements, arranging viewings quickly and coming back with answers to my queries. It is a pleasure doing business with Alex because she is so professional in all her dealings with me.

R.C.

5

I am really very thankful for Miriame for doing an amazing job during the selling of my property. Also I would mention that Felicity has made an extreme effort whilst the property offered for sale. Yes it took a long time to complete the sale but what I liked is Miriame made every effort to overcome and deal with obstacles. Thanks you so much Foxtons your team is of the best and wish all continued success.

K.A.

Just wanted to let you know how impressed we have been by Anna. She has been far and away the most professional of all the estate agents we have dealt with in the Finchley area. She is a credit to Foxtons, polite, friendly, responds quickly and gets the job done.

R.S.

5

I would like to sincerely thank Stephen in your Hampstead office who helped me purchase my first home. In spite of the numerous trials and tribulations we had to go through during the process, Stephen was extremely professional in his approach, went over and above what I would have expected from an estate agent and I found his guidance extremely valuable.

M.S.

5

Helpful and approachable staff. Viewings conducted on time and professionally.

J.M.

3

Miriame was great! This was the first time we'd sold a property and she really helped guide us through the process, and arranged the majority of viewings while we were on holiday. We'd highly recommend Foxtons to anyone selling their home.

P.S.

5

Got us a buyer very quickly and made sure we knew exactly what was happening at all times. When our buyer unexpected pulled out, Foxtons resolved the problem within 36 hours, saving us having to find a new buyer and losing our purchase.

L.C.

5

My first contact with Foxtons was with Katy and I was extremely impressed by her enthusiasm and knowledge of the locality. During the viewing period I was thrilled with the way the house was presented and I would commend Katy and her team, wholeheartedly. In particular I should mention Kevin who did the lion's share of viewings and secured the purchase. Nothing was too much trouble throughout the whole process and he went far beyond expectations - always going the extra mile. The professionalism and attention to detail from all in the office was very creditable and my exacting business standards were met at all times.

S.A.

5

Yasmin has been extremely helpful. She has made an enormous effort to try to assist us with our purchase.

R.G.

Roshele was great in allowing us repeated viewings to the property before we had completed the sale. Katy was the driving force behind getting the sale through, with prompt and frequent updates, liaising with both sets of solicitors and the sellers. Had it not been for her actions I suspect the sale may not have happened.

D.T.

5

We have just sold our house and without the help of Shaun (sales manager) and his lovely team I don't think we would have been able to do it in the timeframe we had. I can't praise Shaun enough and he made a very stressful process reasonably easy. Thank you guys!

I.G.

4

Although we didn't get our new property through Foxtons, I'd like to highlight the outstanding service received from Lucy. She's the best agent we have ever dealt with, extremely helpful, committed and a lovely person.

E.L.

5

The service provided by Foxtons is always outstanding, and the reason why we return to them for every house sale. From the initial valuation, advertising, viewings, through to sale. James and the team at Balham have been courteous, pro-active and supportive. I will always recommend Foxtons to friends and family because of the level of service they give, it's what sets them apart from the rest.

C.M.

5

Looking for a house can be a bit of a daunting process, especially for first time buyers. Marks has provided an excellent service throughout and made the process far less stressful. He's always been punctual, polite, positive and very proactive. He's kept regular contact without being too much (information was personal and relevant) and he made me feel he genuinely wanted me to find the best home for me. Thank you!

S.J.

5

Foxtons managed to find a buyer for my flat in a difficult market and were able to see the deal through to completion. Always professional, the frequent updates about the progression certainly put my mind at rest. Thank you again.

C.R.

5

I am really pleased with the professionalism shown by all I've come into contact with at Foxtons. Whilst your fees are higher than average, I am positive that you have more than made up for that with the price achieved for the flat I sold. Alice was very reassuring and calm when the first sale fell through and managed to find another buyer within a matter of days. Csaba was persistent and extremely helpful with the ongoing ups and downs of the rest of the sale process and his regular contact kept the momentum going nicely! All in all, I'm very happy with the Foxtons service and you are well worth the higher fees! Thank you!

L.K.

5

It was really great service from Foxtons. Very fast and great work from Sales Negotiator Alexandra!! Thank you very much!!

Y.T.

5

I don't recall ever taking the time to write a review before but on this occasion I feel compelled to. I am due to complete on the sale of my property in Islington today. This is in no small part thanks to the superb work done by Sarah. I am based in Sydney and therefore have been working with an 11 hour time difference which makes everything twice as difficult and time consuming. Add to that two sets of lawyers who, without doing them a disservice, seemed intent on preventing the sale going through, it adds up to a significant challenge. My ally in this challenge was Sarah. Her balance of patience and assertiveness, professionalism and good humour was very impressive. She was the glue that held the process and ultimately the transaction together. Please give her a big pat on the back from me. I am extremely grateful for her efforts and she is a credit to Foxtons.

D.F.

5

I recently asked Mike, the Hampstead Sales manager, to carry out valuations of a number of properties owned by myself and my family. He arranged the viewings promptly and sent me the valuations on the same day with comprehensive information I requested. The whole process was carried out promptly, professionally, efficiently and in a pleasant manner.

N.G.

5

It was a struggle to get our house sold but we always felt the staff at Foxtons were supportive in every way. In the early stages Chan, Harvey, Andy and Gary brought prospective buyers round for viewings and they were always friendly. In the latter stages when we encountered problems with the seller here in Lincoln Tom, the manager at the Chiswick branch, took control and liaised with the agent here in Lincoln on a regular basis and with our solicitor to ensure everyone was kept up to date Our emails and calls were always answered promptly. Tom seemed to do the chasing around all the houses to ensure we got to the point of exchange as soon as possible.

M.A.

5

Hello, I have the pleasure to work with Matt while searching for our first property. Matt acted in a very professional manner helping us the best he could to refine our search and find the right property for us. Matt has been doing follows up and called me regularly for over a 6 months period, and has been by far the most dedicated and persistent estate agent I have worked with. I highly recommend Matt for his work.

V.B.

My partner and I have been looking to buy a home in Walthamstow. The current market in this area really favours the seller and not the buyer and the approach of most other estate agents in the area reflects this. They do not follow up after viewings or take time to find out what types of properties you are interested in but send through bulk e-mails directed to everyone on their mailing lists. However this was not the case with your employee in your Walthamstow office Safiya. Not only did she take the time to chat through what we wanted the properties she selected with us were spot on in price, location and condition. She personally took us round (not a generic open day), gave us prompt feedback when we made an offer and was very professional and also fun.

W.F.

5

My wife and I recently bought a house with the help of Alex at the Tooting branch. We are very happy with Alex and the service provided at the branch. From the start Alex was helpful, enthusiastic and professional. We especially appreciated his being available on the phone every time we called. Alex usually replied to emails within the hour as well which is remarkable given his schedule. As the process continued there were a few matters we needed to resolve regarding the garden and legal ownership of land. Alex was extremely helpful here, not least in levelling with us when the answers were unclear. We appreciated his frankness and honesty. We are very happy with Alex and would recommend Foxtons to others

A.G.

4

Thank you Gllian and Sigita for all your hard work and dedication! Always there with a useful update, always there on the other end of the line staying in touch when I needed you. I felt assured that my business is important and of interest. Very professional at all times, helpful and assertive. Thank you and well done!

T.K.

5

Ryan and James thank you very much for all of your help and assistance with the sale of our house! We couldn't be happier! A few bumps in the road with the first sale falling through but handled very well by yourselves and the team!

K.W.

5

Having been in property for years it has been a breath of fresh air dealing with Kelly. Very supportive and I feel she understood my needs as a client then found me the perfect property. She's a credit to the Croydon office and a true professional at what she does.

M.A.

5
Please let us know about your experience with Foxtons.