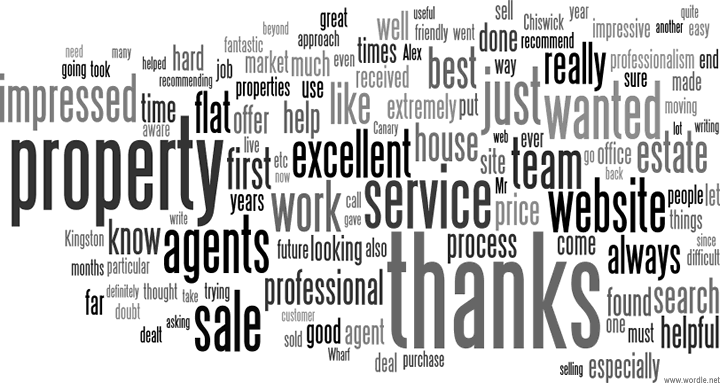 What our clients say...
Annabelle has been my "go to" person at Foxtons for several years. She's always been professional in her approach to the market, providing sound advice on a range of topics; price, the best tenants and helping me navigate through a period when I needed my property for personal use and moving to a short term let basis. In all the time Annabelle has been representing me the flat has been almost 100% occupied which is exactly what I want. Annabelle is very proactive and responsive to any questions or queries I may have. She also goes beyond her specific lettings role to ensure seamless handover to the management side. I really appreciate her work and enjoy dealing with her.

R.H

We were very impressed with Annabelle's professionalism when renting our property: She gave us a valuation far higher than other agents quoted and achieved an asking price offer within days.

J.T

Annabelle was surgically efficient in finding a tenant for my flat in double quick time and with a rental value that was considerably greater than that her competitors. She pretty much left the competition in her wake. I would not hesitate in recommending her to others looking to rent their property.

A.R.

Annabelle has always provided a very professional service - her advice is always very useful and she has found tenants for us quickly and efficiently over the years making the whole process which can often be drawn out and complicated very straight forward and easy.

C.L.

Annabelle possesses all the attributes necessary to be an excellent estate agent. She knows the market extremely well; she is diligent, responsive, and very effective in all aspects of her work. Annabelle is a very professional and charming individual. She clearly takes pride in doing a good job.

In my particular case as a landlord of a four bedroom house in Shepherds Bush, Annabelle was solely responsible for letting out my property. Over the last four years Annabelle was always very keen to find tenants that meet my requirements. She always provides extremely valuable market insights and recommendations that help me making important decisions. To my opinion she is running one of the most effective teams in Shepherds Bush for Foxtons.

It would be hard to envision someone doing a better job than Annabelle or being anything but happy in choosing to work with her and her team.

P.D.

Chis is the the best agent we are dealing with - professional and client focused. Miles above the rest.

N.Q.

Jack contacted us when he knew that 27 Isis was going back on the market. The way that he handled the whole process from contact to final completion was completely professional. He is an asset to your team.

J.T.

Many thanks to David and Helen for guiding us through the recent sale of our house. I was very impressed with the service we received from both David and Helen, and would have no hesitation in recommending you.

E.R.

Thank you so much for your help with the sale of my property. A special word of appreciation for Tom who worked very hard and at times went out of way to mobilise things and get the deal done. You are a wonderful team.

V.T.

Not only did Foxtons get me c. 15% more than I probably would have accepted had I gone with one of your competitors, the type, frequency and quality of all communications throughout the entire process was spot on – I was kept informed at all times. My girlfriend is currently selling her property through another agent and I must say the difference is quite staggering. Based on this experience I would not hesitate to sell my future properties through Foxtons.

S.B.

I just wanted to say a big thanks for your help in selling my property. The service we received from James and Akua was exceptional compared to all other agents we have dealt with in Balham and further afield. Really professional, honest advice was given throughout the process and Akua has been a delight to deal with which has made the experience almost pain free. I'll definitely be passing on your details to friends in Balham.


L.R.

I just wanted to say thank you so much for all your help in getting the sale of my property through. I was extremely impressed by your approach, attitude and commitment.

Z.B.

It has been as absolute pleasure working with James from the very onset. You may be aware that we have marketed our property with various agents prior to contracting with Foxtons. Without going into too much detail, I was very disappointed with previous agents who I found almost impossible to understand and was left feeling very frustrated!

With the previous bad experiences, I was not filled with confidence when I first spoke to James and was sure that this would be just another 'estate agent' that would take up hours of my time, just to get to the point and I was not particularly looking forward to the experience. However, I must say, not only have I been pleasantly surprised, but James really has exceeded my expectations. In our first conversation, I was very frank and perhaps not very conventional at all; James handled the situation extraordinarily well. He was very polite (but not patronizing), he listened (a lot of estate agents do not do this), he answered all of my questions in a direct, straight forward yet friendly and approachable manner.

J.B.

I recently completed a purchase and would just like to thank Oliver for his wonderful service. He never lost his patience or humour in the most frustrating moments. He worked really hard to bring about a satisfactory conclusion for us all. Thank you Oliver you are a star!

S.B.

I didn't get a chance to say thanks for the sale of my property, it was the right decision to go with you guys and stick it out and I feel you guys earned the higher fees paid. I would like to especially thank Rhianna, I thought she did a really great job. I am very happy with the sale price and think buyers will be very happy at the property. I shall keep Foxtons in mind in future sales.

T.B.

I wanted to reiterate how amazing Zeno was throughout the whole process. We had a difficult buyer, frustrating solicitors and an impatient vendor, but Zeno was extremely professional and supportive. He really drove the sale and I believe that he went above and beyond. I've found Foxtons a pleasure to deal with.

Thanks again

Shanil Patel

S.P.

We just wanted to express our sincerest gratitude to James at the Fulham office for all his extremely hard work over the last 3 months. Firstly, he secured a full price offer for our flat just 3 days after going on the market. Our sale had a few complications along the way, mainly down to the buyer's lenders and choice of solicitor, but James was always at hand and diligently went about cementing the whole deal! This sale meant a lot for us as we could finally realise our dream to own a 4 bed house with a massive garden for when our family grows. James is a credit to his profession and to Foxtons.

J.C.

Ivan was an absolute joy to search with. He totally grasped our brief and could not have been more enthusiastic and helpful. I think he's a great ambassador for Foxtons. His knowledge of the market, sense of humour and intelligence do him great credit…as does his impressive parking!

E.F.

I would like to say how delighted I was with the service that Foxtons provided from start to finish. Adam was friendly and informative when he came to value my house and I felt completely reassured by his visit, knowing I would be in good hands. The agents who conducted the viewings were all absolutely delightful and courteous and I could not have asked for a better team to support the sale of my house. Without fail they informed me of when viewings would take place and were unfailingly accommodating. I was kept up to date throughout the process which was something a really appreciated. Overall, Foxtons made the whole process as stress free as possible and I would highly recommend them as a first class and professional agent.

D.C.

I got in touch with your Marylebone office in July 2013 when I started to look for a place to buy. This is when I met Laurent. I just wanted to let you know that he has been great and has changed my thoughts about Foxtons completely. He is very patient, hard working and helpful. It is a shame that I exchanged on a flat recently through another agency but I had really hoped it would have been through Laurent since of all the agents I dealt with (and I have dealt with many) he was the most helpful one. I now recommend Foxtons to all my friends and wanted to let you know of the good job Laurent does. Hope to work again in the future.

Z.K.

Alice at Balham helped us with our search for our first rental property in London, and was really helpful taking on board our at times very specific criteria! Always kept us updated when new properties became available and had a really good knowledge of the local area, and great advice on choosing a flat there. It happened that the right flat for us came up with a different letting agent, but this was in no way a reflection of the service we received from Alice and Foxtons. Thanks for all your help!

R.S

5

I just wanted to write a short note about Renna who has been helping me try and find a property over the last half a year in East London. Through my interaction with her, Foxtons is definitely my estate agent of choice.

At the beginning, she quickly identified my preferences and I appreciated that she only contacted me for properties that I would consider. As she learned exactly what I was looking for, she would also contact me as soon as a potential match was on the radar and I am grateful that she put me at the top of the list. In contrast, many other estate agents will bombard you with properties (i.e. waste your time) and then also go silent on you (which does not help). She was able to build trust in our relationship and I felt that she had my best interests at heart and was at the top of her mind, so I always looked forward to seeing a property with her.I did really hope a property would come through her but it is only due to the luck-of-the draw that it did not and not by any fault of hers.

A.L.

Simon's experience, professionalism and sound advise have been invaluable to us (especially in the more stressful times), and we could not be happier with the outcome. In particular with regards to negotiating on exchange dates towards the end, Simon really helped get this over the line without having to concede anything important. Another example which stands out to me is the help you gave us in tracking down people to get the place emptied out and ready for handover at very short notice, which was a real lifesaver for us.

M.C.

Excellent price achieved for my property before it even formally went to market. Credible buyers were put forward and the sale was very quick and smooth.

S.A.

5

James and his team made selling my flat a doddle! Great service, no drama, great price, really happy.

K.B.

5

Just needed to tell you how hard Gemma has been working on my behalf.I have now found a property that came out of left field and unfortunately was not through Gemma. However I needed to tell you that after seeing many agents over the last few months, Gemma is the most competent and hard working one that I have come across. Am genuinely disappointed that I was unable to complete a purchase with her.

D.R.

I have to say I was massively impressed with Sales Negotiator, Christiaan. I'd been looking for a while and was getting very despondent but he managed to reignite the initial excitement and got me buzzing about the whole process again. I was only sorry that we were unable to find a suitable property within my (limited) budget. He helped me think hard about my criteria I appreciated his comments which resulted in me taking a property in a slightly different area.

L.G.

5

I recently brought a flat via the Stratford office. I had an excellent service. I was regularly kept informed. Staff were responsive, professional and helpful. I felt I had honest answers to my questions. Things got complicated at the last moment due to some delay. I believe that if it were not for input from Alex, my home would have fallen through. Eternally grateful!

L.R.

5

Tom at Foxtons Battersea has recently been helping us with our search for a flat in your area. We are quite experienced in the property market, with a very clear idea of what we would like and after 30 years in Diplomacy more than familiar with saying the right thing to the right people! So, Tom had quite a challenging job directing us around our brief and what the current property market would allow. He did this outstandingly well. He remained knowledgeable, enthusiastic, courteous, patient and energetic throughout the process. He deserves to succeed in his role. It was a pleasure to deal with him and we would have been very happy to have had him as a member of our team.

We have had an offer accepted on a flat with another agent which we are delighted about and we hope will go through without any problems. The only drawback to this has been that we would have liked it to have been on a property with Tom as the energy he put into finding us a flat certainly warranted a sale for him.

We wish him the very best with Foxtons.

S.N

James came to visit my house at the beginning of January for a valuation and to advise me on the process of the sale, after a cup of coffee was cleared to me why your company charges an higher fee comparing to other estate agents in the area. The professionalism and lever of knowledge in the market that James showed during that meeting was amazingly outstanding.

What however was even more appreciated was the fact that once I have signed the mandate the level of service was maintained until the completion day, James kept us up to date almost on a daily bases and scheduled a more formal and detailed meeting once a week to make sure I would have a clear view and understanding of how the sale was going. I was extremely pleased with James behaviour has he genuinely dealt with the sale of my house not as another transaction but he really putting him self in the client shoes reassuring us trough out the process.


A.V.

Having recently sold my flat with your Crystal Palace branch, I can absolutely recommend your services to others. I have used other agents in the past, Foxtons however stand out as the most professional. I was impressed especially with how your different branches work together and got us viewings from several different branches. I would definitely both buy or sell with yourselves again. Thank you all for a job well done. 10 out of 10 for your service. Thanks especially to Oli, Aliyah, Nick and DJ.

M.

5

I've been working with Foxtons since last June, and although I'm buying through another agency, I felt I should write about the excellent service I've had with Foxtons and my agent, Tom.

I have probably worked with around 20+ different agents/agencies, most of them are sharks and easily live up to the stereotype (especially in this sellers market). Tom has been the most wonderful agent to work with. He has been the utmost professional, knowledgeable and patient agent. Tom consistently kept in contact with me, listening to my wish list and working with me and advising me about the various properties we saw. He has been extremely determined in helping me find that first property.

Tom is a credit to the Foxtons team with his outstanding customer service, professionalism and understanding. I happily recommend Foxtons Wimbledon, and will most likely use them to sell my flat one day!


S.Y.

Thanks Ed.......looking forward to getting this sold. Just as a thanks your team in Hackney have been great.

M.G.

I take this opportunity to express on behalf of my family our gratitude to Foxtons for the job done, and especially thanks to Frances for her kind attention, her dedication and enthusiasm in looking for a property that has fit our needs.

F.M.

I am writing with regards to the service i got from Foxtons and in particular Derek.

Derek has been brilliant throughout the whole process guiding me step by step. As this was my first house purchase in the UK Derek's input was vital in getting the deal completed in time and also facilitated negotiations throughout the whole process. His expertise has shown through being able to effectively project manage the deal by speaking to all relevant parties and keeping everyone up to speed.

That fact that he is a friendly and down to earth guy is also something you do not see very often with estate agents. I'm sure you already know this but Derek is the perfect mold in which all your agents should aspire to and ideal in representing the Foxtons brand.

Suffice to say that i would recommend him to anyone wishing to buy in the area.


T.K.

The service I was given by Foxtons when they were given the task of selling my property was a very slick one. They were polite, articulate, intelligent and extremely helpful. I would definitely use them again, if I had to do it all again

T.M.

4

Your attention to detail and commitment is to be commended. I also take this opportunity to express how impressed I am with the service you have provided. I can find nothing whatsoever to criticise about the service you have provided and that is a first for me as I am usually not reticent to come forward if there are any shortfalls in a service provided.

L.W

I would like to thank you for your time and effort in showing me suitable flats. You certainly have a wealth of knowledge about the area and are very committed to a high level of service and care of your clients.

Jocelyn

I would definitely recommend Foxtons to anyone looking to sell their place in London.

Kieran

A special mention for Christian who kept me informed throughout sale and Adam for his enthusiasm.

M.P.

5

Ii have just sold my flat through Foxtons at Vauxhall branch SW1. I want to say Joe and the team have done an excellent job. I have been a very difficult customer but Joe really worked with me and I'm thankful to him during the whole process, he really is an outstanding guy and i wish him and his team all the best.

A.A.

Please accept our sincere thanks and gratitude. As mentioned, we had somewhat been disillusioned with your competitors' tactics in the past few months.

Your professionalism/understanding of our collective needs has gone along way to restoring our confidence in your area of expertise!

I can highly recommend you and Foxtons and we appreciate your hard work and candour!


S.P.

Foxtons had a rubbish name in the 1980s but I have to say the service I have received from you three has been excellent and outshone all other agents.


N.D.

Just wanted to thank you so much for all your help with the flat. You were by far the most down-to-earth and nicest agent I met during my search, so it was brill I ended up buying through you. You are definitely a 'breath of fresh air' in the industry!

L.B.

Just wanted to say that your team have been brilliant with the sale. I'm having a nightmare with the purchase at the other end, I had the offer accepted in November and won't complete until much later. Foxtons has managed to turn this sale round in under a 3rd of the time than the other agents, so I think you've all earned your commission on this. Well done for hitting the asking price, sorry I ever doubted you!

C.A.

Just wanted to drop a few lines to give some feedback about Felicity who has provided excellent customer service to us during the initial stages of the purchase of our flat. She showed us flats that fit to our criteria and did not waste any of our time. She was very professional, personable and available. Kept us informed about the progress very promptly, registered all our questions and made sure that she answered them all for the other properties she showed us appreciating that we were keen to have the full picture for us.

G.S.

This is a short note in order to express my appreciation of the work of one of your team members: Clodagh. I am one of those first-time buyers who have been dreading the whole process of buying a property and allow me to say that I have collected my fair share of experience in dealing with vendors who are either greedy or dreamy or moody or all of the above, as well as agents who treat buyers just like telephone numbers. That said, there are exceptions and it has been a very welcome experience to deal with somebody like Clodagh who is very professional, straightforward and has a great ability to understand what their clients want without complicating what seems to be an already ambiguous process in London.

I am one those people who believe that the quality of the process is as important as the result of it, and therefore there is never a bad time to express gratitude and praise for someone who helps to navigate that process. So compliments to Clodagh for her very professional work.


N.Y.

Just to say that Holly (St John's Wood agency) was excellent, enormously pleasant and professional.

K.

5

I just wanted to put in a good word for Rob who we found very professional during our rather lengthy property search in Putney. We spent over 3 years looking and while most other agents gave up on us he was very patient and stuck with us. His communication skills were great and during the sale process he helped out a lot dealing with the vendor. In the end it all turned out well and we secured our property in December 2013. So all in all great service from Rob all round!


R.L.

So it's been over a month since I got mykeys and just realised I never sent you a proper thank you. You were super helpful in every way and a pleasure to deal with - in fact I used to hate Foxtons but you have changed my opinion of the company ;)


L.M.

5
Please let us know about your experience with Foxtons.