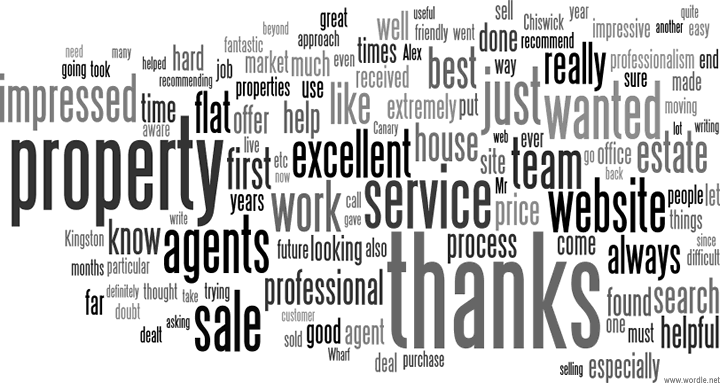 What our clients say...
I write to thank you and your firm for the real estate services rendered by Zenonas to myself and the buyer of my property at xx. Zeno was respectful, professional, courteous, and efficient in doing his duty, and I cannot commend him highly enough. Suffice to say that he was the only bright spot in a very stressful experience!

J.L.

I just bought a flat having been searching for something in Central London for some months. I was very impressed by Anne-Marie of the South Kensington office. She created an excellent first impression over the phone and came across as authoritative and professional. She was also helpful in referring me to a colleague in another office when needed. After I had an offer accepted on the property the manager of the branch, Stephen, was helpful and responsive and I thought the two struck the right balance between pushing things along when needed and avoiding being too pushy - not easy to manage in the highly competitive London property market

Harry was helpful in moving the sale along and liaising with our solicitors and estate agent. He was prompt in responding to our calls and pleasant and straightforward to deal with. He has been proactive in finding us another property for our daughter. We would recommend him highly

5

From start to finish the staff (plural not just one sales contact) displayed an eagerness to sell the property, knowledge of the property and a level of communication second to none. I always felt comfortable that they were working hard and keeping me up-to-date.

A.O.

5

Sami worked very hard to both find a suitable flat for us and keep in regular communication. Sami kept in close contact with me by phone and email for several weeks prior to my arrival in the UK.I live in the San Francisco Bay Area, so being able to show up for a short period in the UK and have everything lined up and ready to go for my visit was extremely helpful.

P.D.

5

We recently bought a property through Foxton Balham. Dane and his colleague Chris have been very helpful and I am glad I was able to acquire this house finally. Thanks Dane & Chris. Keep up your good work.

W.H.

5

Not only were Matt and Craig able to secure an exceptional price for my property, they did so with the current tenants and in its existing condition. I cannot speak highly enough of these gentlemen who helped communication with my very lazy and difficult solicitors (my mistake entirely and I should have taken their advice on selecting solicitors). Over the last 5 years I have been incredibility happy with the Foxtons team in working both in rentals and now in sales. I have moved rental management of my London property to Foxtons based solely on the quality service I received in Woking.

H.A.

5

I am very pleased with your services. After I bought my first flat through you I kept in touch with Derek and he kept feeding me with new flats coming to the market, meeting my requirements. So I managed to buy a second one through you.

V.H.

We recently purchased a property in Marylebone, introduced to us by Tom. As with all property transactions there were issues that required addressing and the whole process was exasperated by the need to complete over the holiday period. Tom and his manager, Charles, provided an excellent, proactive, service that ensured the desired end result for us and their client. The level of contact and assistance we received from Tom and Charles was a model for all Estate Agents and I say that as someone who has bought and sold 28 properties over the years!

D.A.

Hi I feel very compelled to share my thoughts. It's simple really - I would not have purchased unless your sales consultant didn't excel in his professionalism. He was the face of your firm, and there were no second thoughts in my purchase decision. At all. Thank you

N.S.

5

We have sold and bought our new property through Foxtons and I couldn't be happier and satisfied. Excellent service but also they are very professional; Sophia valued our property in a professional way, and was very confident that we would have sold at the asking price which has happened only 4 months later. They are all very nice either if some more experienced than others, however they always advised me hours before the view, never found them in the property without notice - a big thank you to Hexin who successfully sold our property. Then we started look around for a new home, we contacted thousands of estate agents and always received a horrible service, had to constantly call back because they wouldn't contact me about properties advertised online, any offer made they were always rude saying the buyer would never accept as we were in a chain. Until Sara from Foxtons contacted us and all was fantastic!! Not always had great properties but she always ready to know about our needs and taste (I'm very picky and difficult) at the end she showed us the perfect home!!! Sara thank you very much, you have been persistent in showing us that property and in fact we loved it!!! I will recommend Foxtons to everyone.

C.T.C.

5

Given my past experience estate agents haven't always been the best of people to deal with, however Imogen & Vikki have changed my view. They were both extremely respectful, helpful, well informed, with sharp eyes for details, - in short a joy. I will have no hesitation in putting the sale of my London home in their hands. Top marks.

I.H.

5

My wife and I were very impressed by Kat when we first met her as we walked in off the street asking for a valuation on our property last summer. She agreed to be at the property within two hours, and was. After serving notice on our previous agents, Kat came on board with professional gusto, keeping us constantly up to date with the market movements. As interest in a sale proceeded, Kat stepped up a gear and we felt totally confident in her and her team. During the closing stages of the sale, she maintained updates at times when others may not have bothered to ensure that matters proceeded at pace. When the property was on your books we were travelling a lot but Kat always got through to us either early mornings or late in the evenings which we appreciated. Her telephone manner and her emails were always of the highest standard and nothing was too much trouble for her. We had a really nice Christmas due to Kat and hope she did too!!

P.M.

5

An excellent service from the initial first meeting to the day of completion. Garn's diligence and professionalism made the all the difference in the negotiations and the sale. First point of call? Foxtons Ruislip!

T.F.

5

FEEDBACK FOR ALASTAIR Professional at all times friendly and approachable, genuinely cares about people - didn't think I'd be saying that about an estate agent :-) Determined, inspired confidence, no nonsense and down to earth, excellent negotiating between the two/three parties. Provided advice and guidance and acted as a sounding board/agony aunt. Proactive, good, clear and frequent communication. Provided 'extra advice' on bridging loans and the odd question I had re buying. Willing to go extra mile in helping me to sell e.g. making people available to allow access to third parties when I wasn't around. All of the above done with a sense of humour.

S.S.

Hi Foxtons, many thanks for your assistance with the purchase of my property. Harry's communication throughout the process was excellent. When the surveyors report highlighted defects Harry worked with the vendor to ensure the defects were resolved and mortgage provider released the funds. I would have no hesitation using Foxtons service again.

I.H.

5

I would like to thank Brocha, Ben and Nick who demonstrated their high professionalism, effectiveness and consideration in helping me to find my ideal property.

E.F.

We just completed on a house and were really pleased with how the process went. Our agent was helpful along the way, was quick to expedite any queries and provided good advice as required. Foxtons provided a very professional, yet friendly service and we would be happy to use them again or recommend them to friends.

C.R.

4

I would like to express my sincere thanks to Thomas and Alina and all the sales team at Foxtons Pinner for the excellent and highly professional services they provided to successfully conclude the sale of my home. They were extremely pleasant, confident and helpful during the process which can be a very stressful time for any seller. The sales team delivered on every promise they made and were always at the other end of the telephone to answer and deal with all my inquiries to ensure the process was a smooth and quick one. They highly value their customers and their professionalism and expertise makes them one of the best local Estate Agents. I am a very happy and satisfied customer and they not only made my experience a great one but made the dream come true.

A.B.

5

I am most pleased with the service at Foxtons, in particular with my personal experience with the Crouch End branch. Prompt communication, active chasing, polite staff. Simply flawless.

A.C.

5

After meeting with 5 local estate agents I chose Foxtons as I felt there was no contest in terms of their professionalism, coverage and industry knowledge. Nick, the branch manager at Temple Fortune personally took me through the process of selling a property as it was all very new to me.

Nick worked seriously long hours often emailing me at 7am and calling me at 8pm the same day. He was always available and nothing was too much trouble for him. I am so glad I chose Foxtons as my estate agent of choice and would highly recommend them to others in the future. Huge thank you to the entire team involved.


S.K.

5

It has been a real pleasure working with Sam and his team. I would particularly like to single out Sam for praise. He has made the entire process as painless as possible, and always presents himself extremely well in all matters. The consummate professional in my opinion.

J.T.

5

Worked with many agents but Harry you were outstanding, well done. Local agents couldn't sell my property but you did and at top price. Really appreciate your efforts and excellent service. Thanks.

N.N.

To Chris and Dane at Foxton Branch in Balham. Recently I sold my house by Foxton. I am so happy by theirs two member of Foxton. They have the professional, hardworking, great communication, excellent customer service and highly recommended. They are great to work with them and easy to solve all the issues. One of the things which I never forget when I call them and they are busy, normally I leave message and the will call me back within five minutes and update me with new information.

K.H.

5

I cannot begin to express how great the service was that we received from Josh and his colleague Tom, with the sale of our flat in Wimbledon. As a professional property investor, I am used to dealing with estate agents in both buying and selling. The service levels in this transaction were the highest I have experienced in over 10 years. Phone calls were always taken and returned when promised. Information was communicated clearly and concisely, and we were kept informed of where we were in the process regularly by email and phone. While this transaction was mildly more complicated than some others I have done, the Foxtons team facilitated it going as smoothly as it could.

J.B.

5

Sam and Michael were incredibly helpful from the start of selling my property to completion. I particularly appreciated Sam's weekly updates on how the sale was going. Although more expensive than other agents, it was worth it. Thank you!

A.D.

5

My first contact with Foxtons Estate Agents was when I responded to a viewing on the website. Alexandra contacted me the next day. At first I was surprised that Alexandra asked me so many, many questions to ascertain the sort of property I was looking for. I had contacted a few agents by this time and my experience was either I was booked straight for a viewing or a minimum number of questions were asked to ascertain what my position was with regards to property purchase. However, because Alexandra explained that she wanted to really be sure she could look out for what I was looking for, and because of her friendly personality, I was happy to answer these questions. And... I found that Alexandra really meant it. She was thorough and the properties she informed me about were meeting the criteria that she had picked up through our first conversation, and....she did not forget...and did not try to parcel off something which was not what I was looking for....just for the sake of filling in a list for "open house days". Alexandra has throughout this process remained very patient and as friendly, as when we first talked. In fact I take my hat off to Alexandra for her professionalism which underlies her friendliness. In spite of not purchasing through Foxtons she has kept steady contact with me and boosted my flaying energies when things have gone completely wrong with my chosen purchase. Alexandra has been a bright shining star on dark mornings when I have needed to sound someone out or needed a bright voice to start my day with courage. She has advised me wisely when asked for her opinions by giving me very appropriate information to help me make up my own mind. In the very stressful process of house selling and buying I have needed a supportive person and Alexandra is this constant. I know that Estate Agents have a job to do and a business to run but with all my negative experiences of other agents with their hidden agendas I have found humanity in the way, Alexandra has kept up contact with me. I feel sure that if ever I have to recommend someone or sell my property again then I will contact Foxtons and especially Alexandra.

A.M-L.

5

It is a pleasure for me to provide a feed-back for Sanam. After only few days property searches, I have not only bought one property but two. How this happened … When I put my info on the net, I have been contacted by many agencies. However, Sanam made already a difference from the first telephone. I could hear by her voice that she was serious and determined. I was interested only on share of freehold property but Sanam convinced me to consider also leasehold properties, as my objective was to invest. Only after three viewings, I made a reservation for two new development properties at the same time. This would not have happened if Sanam has not taken the initiative to drive myself, my baby (Sanam took her own baby seat) and my mother to Canary Wharf as she knew I would not have signed without my mother's second opinion. It was a long drive, but I felt Sanam did it with pleasure. We felt we were in good hands and we can trust her. I also appreciated Sanam's positive attitude. She has great listening skills as she accepted my views and opinions without trying to argue as would do standard seller, she answers promptly. This proves she has great leadership skills. It is so annoying when sellers try to object whatever a customer can say. She also had positive attitude when I asked her to negotiate the price little bit down. Few years ago, I had experiences of agencies showing me in priority properties they had difficulty to sell. Sanam did not do that, she focus in matching my requirements. She was thus successful to build trust from the beginning. To finish, I would like to thanks Sanam for her time and efforts and wish her the best in her career.

S.A.

5

We chose Foxtons because of their coverage of potential buyers from both the private sector and property developers and they didn't disappoint. I was kept in touch with developments by staff and found Frank particularly, and Simon professional and helpful. I would certainly use Foxtons in the future.

B.T.

4

May I take this opportunity to send a special thanks to Chloe and other staff in Bromley branch for their tireless effort to sell the house quickly as well as at a higher price. Chloe has done an excellent job, it is beyond belief what she has done for us through her professional skills.
She kept us well informed throughout the entire process and managed to sell the house at a much higher price than what we expected.
I feel it is my duty to inform you how good and hard working employee Chloe is. She deserves a great reward from Foxton for the extra mile she ran.
I wish her every success.


A.B.

Jonathan from the Tooting Branch was very friendly, helpful and professional. Was not only able to help guide the property search process, but also smoothly helped me through the buying process with advice and guidance.

B.C-L.H.

5

Foxtons were a pleasure to sell my flat with and dealt with the whole process very professionally and efficiently. All the staff were very helpful and informative and made the whole experience stress free. Would strongly recommend Foxtons to anyone looking to sell or buy.

A.S.

5

My wife and I found the Foxtons service to be of a high quality, and mostly consistent with our expectations. Our Sales Valuer, Sam, was helpful and conscientious, and kept us updated at every stage of the process. This was particularly important for us as it was our first time selling a property. In terms of what could be improved, I think a more structured approach to bookings and feedback would be useful. This would help sellers build up a sense of how their property is perceived, and what viewing statistics have been like. Plaudits should also go to Sam for assisting us with our onward purchase, and providing advice where others may have shrugged us off. It is for this reason that we would be highly likely to use Foxtons in the future.

4

Tarquin gave very professional advice and attitude - clear and precise information - good communication skills and swift action - good at closing the deal - shared the selling with staff at two other Foxtons' offices. The staff involved were enthusiastic and committed. - didn't achieve the asking price, but the market was slow and we were glad to conclude the sale.

C.L.

5

Grace from Canary Wharf office worked really hard to keep me in touch with apartments she thought I would like and I must have seen at least 6 or 7 with her. I ended up buying one that she mentioned had come on the day before, whilst we were viewing another. I was impressed by how hard she worked on my behalf, and I wasn't always an easy client. Great work and much appreciated. Look after her Foxtons!

G.O.

5

Service was excellent. Alex was always available to update me during the whole sale process, making everything run nicely and smoothly, from flat viewings to completion.

D.B.

5

Having recently purchased a property via your Ealing branch, I would like to make a special mention to the agent handling the purchase, Andy. Andy was great from day one and has, in my opinion has the perfect balance of salesmanship. Andy would regularly update me with properties he felt would suit my requirements and never felt pushy. Not only was he very patient throughout the process, but he really listened, made me feel at ease and able to trust his every word. His communication was quick, concise and he always did as he said he would in a timely manner. In short, I could not fault the experience and I am one tricky customer. Top marks and I hope someone gives him a big old pat on the back.

E.H.

5

The team at Foxtons Blackheath did exactly what I asked of them, they got me the price I wanted in a tough, competitive marketplace and I can honestly say they were worth the extra money. Sarah was my personal contact and she went absolutely above and beyond to help get the sale through, particularly when there were challenges from the solicitors on both sides. Sarah was calm, confident and efficient and always willing to assist as well as being available on the phone and email whenever I needed her. In a stressful situation (which selling a property undoubtedly is) Sarah was fantastic in supporting me through it and I genuinely don't think I could have done it without her!

E.V.

5

Jonathan has been fantastic in helping myself and my partner find a property. Always on time, efficient, and always very happy to help me and take my calls. As a person, Jonathan is one of the nicest people I have dealt with at Foxtons.

D.P.

5

Just can't resist letting you know that my son in Chiswick has just sold his flat all thanks to Foxtons!! Our respect for you guys knows no bounds! We are so delighted and we are spreading the word about your company to everyone we know. Hurry up and come to Weybridge. I'm just hoping Foxtons will find him a lovely family house to buy now.
You see - as you guys know only too well - it's not just about selling houses, it's about developing lives!


S.W.

I recently purchased an apartment through Foxtons in Balham. The experience was one of complete professionalism from start to finish. James Redington was exceptional in all aspects of the sale. His knowledge, dedication and tenacity throughout were second to none. Thank you James. I have used Foxtons on several occasions and will continue to do so.

J.T

5

Chris was fantastic - achieved over the asking price and got exactly what he said he would.

M.W.

4

I'd just like to say a big thanks to Chris and his team who helped sell my property in the summer. The team was very professional throughout, provided prompt feedback on any viewings and Chris, in particular, was extremely helpful in helping push through the exchange when we had a few problems with a very lengthy chain. We would highly recommend and use Foxtons again in the future.

G.J

5

Fin was a very professional, helpful and cheerful person. He answered all our important questions and updated us all the time with new information so we didn't have to call Foxtons. It was a pleasure dealing with him.

M.G

5

Akua is a pleasure to deal with and she handles all of our concerns in an efficient and timely manner.

B.F.

5

I should like most warmly to congratulate Aidan Humphries of the Guildford office for his kindness, professionalism, his dogged determinism in chasing up solicitors, and his constantly updating us regarding the state of play. If there were such a thing as an 'estate agent of the year' award I would have no hesitation in recommending Aidan as its recipient.

D.W.

5

Firstly thank you Priscilla for all your hard work, determination and tact. I was expecting the sale to be awkward with a tenant in situ facing eviction, but you dealt with that perfectly, getting viewings arranged at the house with tenant co operation. The house was tired in appearance but you sold the house and its potential for upgrading and you maintained that especially after the buyer decided on a full survey just before exchange. I found all staff a pleasure to deal with, I was always met with a smile and a positive response. You obviously work as a team, but thanks again Priscilla. You dealt with all the little setbacks and saw the sale to completion, overcoming objections and problems as they arose, reassuring the buyer all the way. WELL DONE


T.J

5

Daniela was persistent and tenacious and continued to improve the options she put in front of us with every rejection. We were looking for a 3 bedroom and when she mentioned a 4 bedroom she thought we would like, we were pretty rough about it. She sent it through anyway and we fell in love with the property after viewing and rejecting at least 40 others over 3 months. She was efficient, charming, and a breath of fresh air.

S.B

5

I came new to buying in the uk (I'm an expat in Belgium). Sarah at the Islington office was fantastic from start to finish. She answered all my questions however silly by return of email and did all the 'hand holding" that I needed throughout this first purchase. The whole experience was much simpler and more pleasant than I anticipated. It was also just plain friendlier.

J.M.

5

I used Foxtons Ruislip and I was really pleased I did. The service was fantastic, staff are on the ball and attentive to your needs. I dealt with Sofia who deserves the 5 stars, and a big thank you!

A.P

5
Please let us know about your experience with Foxtons.