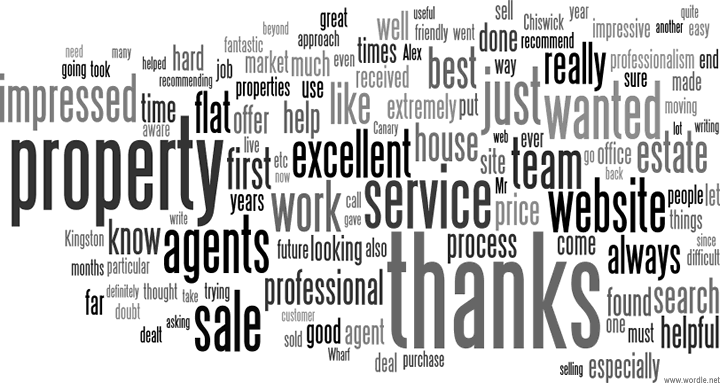 What our clients say...
Just a quick line to let you know that Roberto was extremely helpful throughout all stages of our purchase. I would happily recommend him to others and/or seek his assistance myself for any future buying or selling.

A.W

We are very grateful to Ivan and all the team for all their efforts, their service has been second to none.

S.R

We wanted to write to formally thank you and your team for the help you gave in selling our house. In particular, we wanted to highlight our very positive experience in dealing with James. We found him to be proactive, useful and helpful. James greatly assisted in getting the sale through to completion.

S.F

I would like to thank Ryan for the excellent service he provided in connection to the sale of our home. I must say all the staff at Foxtons were very helpful but the communication I had on a one to one basis with Ryan was excellent and very professional. I would highly recommend him to anyone wishing to sell their house.


A.L

I wanted say that Henrietta is great in what she does and how she deals with people.

D.R

I am very happy with the service I received, it was a very simple and efficient process.

Y.L

5

Mark has just sold my flat and I could not be more impressed with his client relations, hard work and determination. He was absolutely brilliant from start to finish. I have not got enough good things to say about Mark and I would highly recommend Mark and Foxtons for their professionalism and client care. Outstanding! Thank you a million times.

M.N

5

I wanted to give the team at Willesden Green a big thank you for the great job that you have done. From the very start and all the way to the end.

G.B

We worked with Akua to find the right flat for us. We viewed a lot of properties in different locations, all of which Akua happily showed to us, doing viewings early & late suiting our needs due to our long working hours. We very much liked her working style which was informative but not pushy. We are delighted with our new flat which is in an area we thought we couldn't afford! Akua was fantastic as she actually listened to what we were looking for - so often isn't the case with agents, we would highly recommend working with her - thank you.

S.A.

Just wanted to say thanks for the excellent customer care whist selling our flat last month. James and all the team at the Balham office were fantatstic and effective at getting the sale through for us. Communicated well at every stage of the process and managed both myself and the buyer with professionalism at all times. Wouldn't hesitate to use the Balham team again.


P.S.

Akua and the Foxtons team helped my property search with a continuous stream of flats to review. Foxtons were very diligent at closing the deal and ensuring nothing was overlooked. Many Thanks

N.H

4

This is the third time now that we have sold properties in the Balham area, and you can't get better than the Foxton office there. I must also mention Chris who was absolutely brilliant from start to finish, I really don't think we would have settled as quickly had he not moved heaven and earth to get us to the finish goal, many times going above and beyond, and never once did it feel like a choir. Chris's service was first class, I know who I'll be selling through again.. FOXTONS!

L.R

We recently sold our property through Foxtons Balham. We had initially marketed our property through two other local agents and whilst we had offers on our property, they were slow coming in and were no where near asking price. After several months and no sale we decided to move to Foxtons. We should have done it sooner…actually we should have gone with Foxtons in the first instance! Our property was on the market with Foxtons for less than a week and we got an asking price offer, which we were obviously delighted with. The service provided was second to none. Dealing with James, Chris and Akua was great. They really know the market and were professional throughout. We would not even think about using another agent for any of our future sales. We highly recommend Foxtons Balham.

L.D.

5

Prior to working with James we hadn't had much luck selling our flat. The moment he took the property on, he saw it's merits and starting bringing round the ideal buyers. He secured an offer at asking price in a matter of weeks and proceeded to manage the process between buyer and seller in the most unobtrusive and diplomatic manner. He was a pleasure to work with at every stage of the process. We are so grateful to him.


F.P.

I had 4 agents to value my home and Chris was by far the most professional and knowledgeable out of all of them. His consistent approach and attitude made the selling process easy and enjoyable. James was also a pleasure to deal with. 100% recommend the Foxtons Balham team, first class service. Well done!


J.W.

5

I have now used Foxtons, Balham for two sales and one purchase of properties in the Balham, Wandsworth Common and Tooting area. The team (James, Chris, Akua and Stephen) have been the stand out agents that I have used. Not only in terms of getting the footfall through the door but in guiding buyers through the purchase and managing all parties seamlessly post offer, ensuring every deal has gone through without losing a link in the chain. The integrity of the individuals has always been unquestionable, and they have a genuine drive to close deals work incredibly hard to make it happen. Not least they are nice people to deal with. I would unquestionably recommend this team.

N.H.

Foxtons were not top of my list of estate agents to approach when I decided to buy a new property which was partly due to previous interactions that had yielded nothing and partly due to reputation. When I did engage with Foxtons I found a new generation of estate agent which is highly professional, focussed and thorough. The service I received from my agent Tom was excellent and raises my expectations of estate agents. Next time Foxtons will be one of my first calls.


M.R.

From day one the team at the Barnes branch were a breath of fresh air. Robert was professional, articulate and transparent in his actions with good ethics employed throughout. Well done to Robert for a swift sale and rapid response from day one, viewing the flat almost daily. Credit should also go to Mattia from the Richmond Branch who put in the leg work with the eventual purchaser. I would recommend the Barnes and Richmond branch of Foxtons.

N.C

4

Emily, I wanted to thank you for your help on our search and the time you put in trying to find somewhere for us. I can easily say with absolutely no question that you were the best and most active agent that we dealt with.


L.B

I recently sold my flat in Walthamstow. Having bought and sold several properties over the years, this was the best service I ever received. The agents were polite, punctual, hardworking, communicative, reliable, flexible and above all, honest. Thank you Saima and all at Foxtons in Walthamstow for taking the pain out of home selling.

C.M.

Kevin, Can I also take this opportunity to thank you also, you have been on this journey with us from the very start when we started the search back in Dec 2014.
You have been incredibly patient with us and I sincerely thank you for the time you taken to show us just about every property available in the North London area!
No doubt we will be in touch with you both when we start this process once again when my son is ready to purchase. Until then our sincere thanks.


J.K.

In an industry where egos rule and Arthur Daley' abound, Foxtons offer a welcome respite from the pitfalls of using the services of an Estate Agents to sell your property (in my case). I have 3 words to describe my experience with ALL the operatives I dealt with at Foxtons, and that is Slick, Slick, Slick. The competition could learn a lot from Foxtons and I would highly recommend them to anybody thinking of selling their property.


D.H. & S.E.

5

We just wanted to take the time to say that we were really impressed with Foxtons' professional service and with Diana's conduct and helpful approach throughout. She was incredibly knowledgeable, honest and we felt that we learned a lot about the Wimbledon property market from her. We just wished to pass on that feedback, she is an asset to Foxtons but we are sure you already appreciate that! Keep up your good work.


F.B.

I contacted Foxtons in an emergency. My flat which I was selling in order to purchase another property had been on the market for over seven weeks with another agent. I was concerned because seemingly few people were viewing the flat and tentative offers which were coming through were significantly below the asking price. I contacted Nick with the request that he get my flat sold in six weeks. An offer was accepted within three days of the flat being put on the market with Foxtons and completion occurred within the requested timeframe. Nick and his team made what had become a somewhat nail biting experience incredibly smooth, my only regret being that I didn't turn to them in the first instance.


T.L.

I found her to be professional, kind and helpful. She coped very well with my sister who was unwell and could be difficult to deal with.


E.B.


I just wanted to congratulate you on having a really good member of staff, Beniamino. He was great in helping me to secure the perfect property for me. Beni was knowledgeable, professional and responsive throughout my purchase of xx. I am regularly recommending him to my friends. He definitely deserves a pat on the back.


L.S.

As ever, Foxtons (Jas and Tatiana) were excellent throughout the transaction. They were able to show us the property whenever we wanted and were very good at managing the seller who was rather stressed


A.N.

5

I recently completed on my first home - I wasn't sure about the property but Tatiana was brilliant helping my partner and I consider our options carefully and helping us during viewings. Tatiana was supportive throughout - some have warned me away from Foxtons as pushy and not customer centric - not what I experienced. I felt I had a friend at the end of the phone who knew everything there was to know about the whole process and was just as excited about our purchase as I was. Would recommend and will use Foxtons when I move again!


E.D.

I just wanted to write to formally thank Christina for all her hard work over the past year. Christina has consistently been a pleasure to deal with and always kept me updated as to what was on the market.


R.T.

Kat, I just wanted to thank you and Claire again for all of your hard work in bringing xx to a successful close last Friday. I very much appreciated the efforts you and Claire went to in order to achieve closing within 5 and a half weeks. Thank you for keeping up the momentum and giving the buyer, myself and our respective solicitors the necessary push when required. I am unreserved in my recommendation of your team and Foxtons for the marketing and sale of Putney property. Within 3 weeks of engaging your team, you secured a buyer at an acceptable purchase price. My only regret is that I did not engage your team at Foxtons sooner!

G.N.D.

If you are looking for a house in the Kingston area, look no further than Christiaan. He has a very good knowledge of the area and property values, has an exceptional drive to find the right house for you and quickly becomes a friend rather than a salesman. He found a great house for us and went out of his way to enable us to see it a second time at short notice. It was a pleasure to talk with him and he answered all calls asap. He is a great credit to Foxtons and we wish him well for the future.


B.P.

5

Anne-Marie - just to say thanks for all your help with our purchase of xx. It is a fantastic property and a great investment. You have been a terrific agent and we have great trust in you. We'll hopefully be looking again in another couple of years and will reach out again.

S.B.

Ollie was very good - he made sure that we saw lots of flats and eventually found a great one! He also helped us through the process as we had not bought a flat before. We will definitely use Foxtons again.

J.W.

Mike, Many thanks again, thought you were one of the best agents I have met, and I have met a few !!!



N.B.

I'd like to thank the whole team for all their efforts, I've been really impressed by Foxtons, the level of professionalism has been great.


O.B.

Together with my partner we have started house hunting in February this year. We have contacted countless agencies at a time and Foxtons Stratford with Oliver as a representative has immediately standed out. We felt that we have been given adequate understanding of our needs, care and time needed to make decisions as well as personal advice and visiting different places. Even with a very tight budget and long list of must haves we have been always taken seriously. We have really enjoyed working with Ollie who has created a good bond with us and has been always keen to help and assist throughout the process. We would definitely recommend Ollie and Foxtons Stratford to our friends and family. Also hopefully in the future we'd be expanding our property portfolio and would certainly start and hope to complete again with Foxtons.


M.R

5

THIS IS THE 1ST REVIEW I HAVE EVER POSTED AND NORMALLY I WOULD NOT BOTHER. HOWEVER AFTER THE EXCEPTIONAL SERVICE I HAVE RECEIVED FROM FOXTONS I FEEL DUTY BOUND TO SHARE IT WITH OTHERS. IN 2014 I TRIED SELLING MY PROPERTY AND USED 2 LOCAL ICKENHAM AGENTS BOTH OF WHOM FAILED MISERABLY TO OBTAIN A BUYER EVEN AT A PRICE BELOW MARKET VALUE. THIS YEAR FOXTONS MOVED INTO THE AREA AND I APPROACHED THEM. FROM THE MOMENT THEY SENT SOMEONE TO VALUE THE PROPERTY THROUGH TO THE TIME WHEN I EXCHANGED LAST WEEK THE SERVICE HAS BEEN EXCEPTIONAL. THEY VALUED MY HOUSE ABOVE WHAT IT HAD PREVIOUSLY BEEN OFFERED AT AND WITHIN 72 HOURS I HAD RECEIVED 3 OFFERS ONE OF WHICH WAS EXTREMELY CLOSE TO THE ASKING PRICE WHICH I ACCEPTED.THE STAFF THAT THEY SENT TO MY HOUSE TO SHOW POTENTIAL BUYERS AROUND WERE EXTREMELY PROFESSIONAL AS WELL AS ENTHUSIATIC SALES PERSONS WHO NOT ONLY HAD PREPARED THEMSELVES BUT HAD ALL THE RIGHT ANSWERS TO QUESTIONS RAISED.AFTER ACCEPTING THE OFFER THE ASSISTANCE I RECE IVED FROM GARN AND ALSO FROM THE MANAGER JAMES WAS SECOND TO NONE, BOTH OF WHOM WORKED DILIGENTLY TO ENSURE THE SALE WENT THROUGH. IT IS CLEAR THAT FOXTONS STAFF ARE VERY WELL TRAINED TO PERFORM THEIR ALLOTTED TASKS. THEY DESERVE TO SUCCEED IN THE NEIGHBOURHOOD AND I CANNOT RECCOMEND THEM HIGHLY ENOUGH


G.C.

5

Sami, I cannot thank you enough for your incredible service and help over the past weeks
in endeavouring to find a suitable flat. I was very lucky to be referred to you. You are just the most wonderful agent, best by far which I encountered, I wish it was you who was negotiating for us. I did want to thank you very much for helping me with flat hunting, you made it fun and enjoyable as it is a very time consuming and arduous task as a flat hunter!


P.A.

Joseph has been responsible for selling my property, xx. I had engaged another estate agent previously but had no results. I telephoned other estate agents to expand my selling base. Foxtons being among them. Joseph turned up. From the moment Joseph arrived his manner was professional, giving me confidence in him; efficient, giving me a sense that time was important to him therefore, that he wouldn't waste mine; his negociator skills were robust and comprehensive, giving me an indication of how solid he would be; he listened to me, making me feel that my needs would matter to him, therefore, a personal service and he had a pleasant, smiley, intelligent disposition. Within a week of engaging Joseph (Foxtons ), my buyer walked through the door! I can honestly say, hand on heart, that without Joseph's professional, calm, steady, robust, dedicated, humorous, articulate, efficient, intelligent, hands on and creative presence and handling of the whole process from start to finish, I would not have been able to do it! We had to collaborate very intensely in the process of selling my house, as it was a complicated sale and purchase situation and Joseph had to mediate between parties, negociate quite intensely, solve unforseen problems, thinking on his feet, keep everyone calm and deal with me, (a very damanding customer), and my buyer phoning him almost everyday placing alot of pressure on him. In all, Joseph , in my opinion , is a superb estate agent with integrity and top management material. Without whom I would not have managed this incredibly difficult and stressful process and life transition. He made it containing, took my stress and steered the boat firmly, steadfastly, courageously, determinedly, professionally, bringing all of us, ( sellers and buyers), safely to shore. In that first meeting he gave me a sense that I could trust him and he was as good as his word. I owe you a debt of gratitude Joseph and I will not forget you.

Thank you for providing such an excellent service all the way through selling my property. From start to finish it was a fantastic journey, from the quality of your photo shoot of the property, the way the team would handle phone calls, visits to the property and the way Ryan would be the sole point of contact to discuss offers, history of the buyers etc.

I had over 10 viewings in the first week, 3 potential buyers, 2 buyers at the asking price, it was a perfect sale for me.

It was a real pleasure to work with Foxtons Bromley.

M.B.

Well what can I say except SUPERB!
You guys are the best! Of the best!
Thank you all for making this happen I'm very grateful and 100% impressed TOP NOCH!



S.F.

I have recently purchased a property through Foxtons, and Mariia was my Estate Agent helping me with my search. I wanted to provide some feedback on my experience.

I had a very pleasant time dealing with Foxtons, and I have dealt with many different Estate Agents over the past few years with various properties.

Mariia is the first Estate Agent I have worked with that has genuinely gone above and beyond to aid me in my search. Her professionalism and quick response times have been a welcome change, and she has maintained a very good relationship with me throughout the process.

A couple of examples include:

• Constantly checking my requirements for my property search, and really listening to what I was looking for in order to tailor the emails and search results to something I would be interested in viewing.
• Ensuring that viewings were quick so that I could have the opportunity of getting in early
• Checking in regularly with updates, and to ensure that I was happy with everything (which I found valuable as it made the experience much less stressful)
• Liaising effectively with my Mortgage Broker - again taking some of the stress away from me
I cannot sing her praises enough, and I hope as her manager that you are aware of the hard work she has put in to this sale. I will 100% be recommending Foxtons Stratford as a choice estate agent in the area, and more specifically Mariia who managed to make the process of buying property fun!

A.S

This feedback is to let Foxtons know that they have an outstanding employee in Danielle. We first met her on February 2014 at the start of our property search and finally ended up completing on a property. Throughout this time we continued to be contacted regularly by Danielle and kept informed of new properties coming on the market that she felt might be suitable for us. We came close to buying two properties with her during 2014 but changed our minds, as in the end they were not quite what we wanted. At times I'm sure she must have questioned whether we really were serious punters or just serial time wasters but at no time did this ever show through and she remained professional and personable throughout. We are absolutely thrilled with the property we have ended up with and like the other two that we thought seriously about, this property was marketed to us in person by Danielle and not just included on her regular email of properties to us. Without this personal contact and 'sell', I don't think we would have visited the property, as it's hard to keep in touch with the wealth of sometimes daily emails that come in from estate agents. What I found with Daniele was that I got regular emails of lots of properties but then phone calls when something came up that she really felt met our (demanding) brief. I would say that we saw more "on brief' properties with Danielle than any other agent we looked at places with and this increased our trust in her judgement when finally 'the one' came up and she urged me to go and see it. In addition, once the price had been agreed with the vendor she was excellent at 'nursing' the sale process through and keeping both sides informed of various glitches and communication needs along the way. We could not be happier with the service we received from Danielle and she really did your brand proud and made us feel that when we come to sell our main residence we would definitely look seriously at Foxtons for that process. A real gem. Thank you Danielle.


C.D.

5

We have just completed on the purchase of xx. I wanted to say how impressed I was with Isabel throughout the process. She was extremely knowledgeable of the area and was very pleasant to work with. Probably the best estate agent I have come across.

Emily was one of the many agents I dealt with throughout Earlsfield and was easily one of the best. She was very helpful especially for a first time buyer - it felt like she was genuinely interested in finding you a great place to live rather than just the "take it or leave it" attitude of an alarming number of other agents in the area.

A.J.

5

Christina has been polite, knowledgeable and a pleasure to liaise with. She has been attentive in making proactive communications and take upon the preference criteria that we specified.

T.E.

Christina has been polite, knowledgeable and a pleasure to liaise with. She has been attentive in making proactive communications and take upon the preference criteria that we specified.


T.E.

Bertan deserves Foxtons employee of the year for his outstanding commitments to your company.


D.S.

Thanks a lot Sonya! Many thanks for your hard and amazing work you and Ed have done for selling xx. I would like to give you the best feedback. I will also use Foxtons to rent my other studio flat.


V.A.

If you're looking for an exceptional service I would definitely recommend Chan at the Chiswick office. He knows the local, and wider London, property market inside out and proved that he is 100% dedicated to providing professional and super-efficient customer care during our property search. He was incredibly generous with his time and advice, which was invaluable during sluggish periods in the market, and his perseverance to find us the right home never waned, even when ours did! Trust what he tells you. He knows his stuff.


J.S.
Please let us know about your experience with Foxtons.