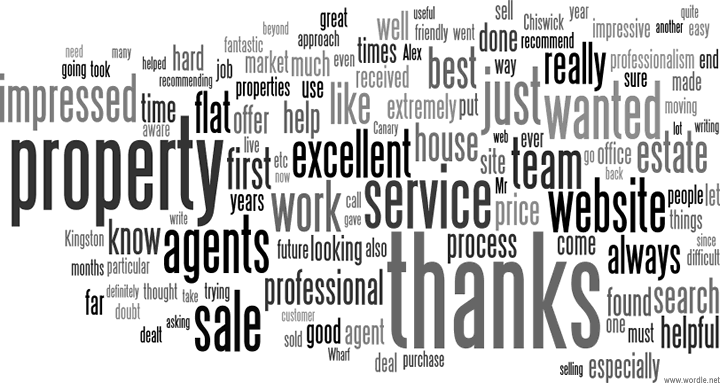 What our clients say...
We have just completed on the purchase of xx. I wanted to say how impressed I was with Isabel throughout the process. She was extremely knowledgeable of the area and was very pleasant to work with. Probably the best estate agent I have come across.

Emily was one of the many agents I dealt with throughout Earlsfield and was easily one of the best. She was very helpful especially for a first time buyer - it felt like she was genuinely interested in finding you a great place to live rather than just the "take it or leave it" attitude of an alarming number of other agents in the area.

A.J.

5

If you're looking for an exceptional service I would definitely recommend Chan at the Chiswick office. He knows the local, and wider London, property market inside out and proved that he is 100% dedicated to providing professional and super-efficient customer care during our property search. He was incredibly generous with his time and advice, which was invaluable during sluggish periods in the market, and his perseverance to find us the right home never waned, even when ours did! Trust what he tells you. He knows his stuff.


J.S.

Matt was pro-active in keeping in contact with us, we recieved regular phone calls to check on our situation and to update on the market. Extremely efficient in booking viewings and able/happy to accomodate our requirement to only have late viewings. Extremely knowledgable on the properties that we were shown, 99% of questions answered on the spot. Overall we found Matt extremely pleasant to work with. His ability to build relationships quickly and maintain them was particularly impressive.


L.S.

Steve and Henry at Foxtons Kingston have been amaising in quickly getting me the asking price I was looking for and making sure my sale went through. My property was not at the high end of the price spectrum or a straight forward property to sell but they embraced it and went the extra mile to make sure my sale was achieved in a short space of time. I walked into Foxtons 5 months pregnant and my flat was due to complete the week after my baby was due. The guys were sympathetic of my situation and could not have been more helpful. When my buyer had a query with an air con unit I couldn't answer they offered to go straight over themselves and get the answer for me as I was tied up. Extremely professional! I had Foxtons recommended to me by my MD who sold his property in Chelsea last year with Foxtons and I'm already singing your praises to all I know! Many many thanks!

L.N.

Orly
Thanks for all your help.
You are probably the best estate agent we have dealt with - and we have dealt with many, both in the UK and overseas.

A.M.

Just wanted to give some great feedback for Jonathan based at the Tooting office. Me and my girlfriend are searching for our first home and Jonathan has been absolutely fantastic, he's been so easy to talk to, really understood what we wanted and gave some brilliant advice. Although we have yet to find a place, if we could buy through him, we would. He's a great asset to your team and has turned around our view of estate agents!

A.W

5

Rishi was exceptionally helpful, patient and went above and beyond to show me and my family suitable properties. I'd certainly recommend the Temple Fortune Foxtons branch to other investors

B.M.

Please note that I have been particularly happy with the service and help of your agent Jonathan. His follow up, sense of service and assistance in the process have been up to highest standards I hope all your professionals are at this level of quality

S.J.

5

Nick has been handling the purchase of our first flat but I just wanted to let you know that Nick has been absolutely fantastic in helping us with our purchase. Not only is Nick incredibly personable and friendly, he has been brilliant at answering all of our queries quickly and thoroughly and has been a real asset to us (and will continue to be) throughout this process.

I know these days it's usually only complaint emails people take the time to write, but I wanted to make sure that Nick got the praise that he very well deserves - he is a real asset to your team and to Foxtons.

J.S.

Thanks very much for all your hard work on xx. I have been enormously impressed with the efficiency and professionalism of everyone I've spoken with both at your branch and at Hampstead. You helped us through some difficulties with the first sale and achieved an outstanding price with about as good a buyer as one could hope to find the second time around and have been attentive and assiduous throughout.


M.W.

Miriame & Stuart

Words cannot express my gratitude to you both in completing this sale for me.
As always Stuart, you are a brilliant & gifted negotiator & I never had any doubt in my mind that you would be the one that would sell my flat.
It was most fortunate that you, Stuart went off to Scotland for a few days & I had the opportunity to work with Miriame
Miriame, I have to say I completely think you are the best & will be your best friend for life!! You have the most amazing qualities that make you the most amazing, outstanding manager, you are calm (very helpful.....), totally competent, intuitive, reliable (you always email back!!) & most importantly your communication is brilliant......you are direct, effective & take no prisoners! And at the same time, you are able to understand & sympathise at the huge amount of stress involved in these transactions including the emotional trauma (trust me, I had it!!) My solicitor thought you an exceptional manager & I think this sale would not have happened without you.
I hope you both don't leave Foxton's for a long time & if you do, I'm coming with you!!
Forever in your debt,

K.A.

A personal note to thank you on all your effort and support provided in the purchase of xx.
We are very grateful to you for managing this transaction as you did, knowing the unexpected delays we incurred.

P.S. & F.S.

Suj had reacted professionally and efficiently to provide me the best service including her constant feedback, returning calls and taking in consideration of my concerns offering me very honest advice, Her attitude is very recognised having worked in a well established firm myself. When I received an offer she called me at around 9pm and I was very taken back at her commitment towards Foxtons to have called me at this time. As I work full time my preferred communication was text and everyone has been very prompt on this and I am happy to say there has never been a confusion.

Therefore I like to say thank you to everyone especially Suj who have taken and still are taking care of my property to get it in the offer I am happy with.

I will be happy to recommend other people to Foxtons especially Suj who I have full confidence is the right person for this job and know she will continue to be a good leader.


R.E.

I'd like to thank you again for your work on our behalf.
We were certainly lucky with our vendor but you were consistently helpful, contactable and friendly which really made a big difference. I was rather dreading the process before we started but am very glad that you working with us.
The move has gone smoothly and we love the house even more than we dared imagine!

O.A.

I wanted to write briefly with gratitude for all of the hard work that the Foxtons team have put into the sale of my property at xx.

We originally went with a different local estate agency in order to sell, Nick having also visited us and actually the service offering and professionalism of Nick for myself was reason enough to go with Foxtons. We chose the other agency purely on price...which 3 months later turned out to be a mistake.

Immediately turning to Nick and his team at Foxtons we were thrilled to see 3 viewings on day 1! A week later and 3 offers in, we knew we were in the right hands, correct footfall, private investor interest as well, and such like.

Nick kept us in the loop throughout and being busy at work, Foxtons kept me in the loop via text messaging in the week.

A wholly professional, tailored service to me, and at speed, absolutely worth the extra expense for the right sale price, stress free.

Superb service from Nick in particular and I wanted to send a testimonial so that it is recorded as well.

J.G. & D.G.

Excellent communication and service.

R.R.

5

We are simply dropping in a line to thank you for the sale of xx!
In all honesty, we are left flabbergasted at the amount of which you were able to sell the flat.
We have gone full circle with Foxtons from renting the flat to then buying it and living in it and then letting it and finally selling it. So thank you to everybody in the entire process - from Olly - wonderful person with whom we rented the flat, Aimee, Natasha for putting up with our panick-attacks while we were renting and whilst we were owners, Katherine and Cameron.
For any of our friends living in the UK, we will definitely recommend Foxtons.
Gary, thank you to you for always understanding our fears/ insecurities and always addressing them very reassuringly.

B.G.

Hope you're well Danielle.
You are the most efficient of all the estate agents I've been dealing with - please feel free to pass this information on to your boss. Appraisal time is never far away!
Seriously, you are excellent at your job.

J.S.

Billy was terrific to deal with. When we commenced our search in Surbiton we enlisted in 5-6 estate agents and Billy was by far the most professional, accomodating, and knowledgable. A pleasure to deal with. When we next move we will certainly be giving Billy a call to see what he has to offer.

J.K.

5

I have only just met Jay and Suj and am touched by their dedication to customer care. On meeting Jay at a property, which I am in the process of buying, i found her to be very friendly and attentive to what I required. After putting an offer in for the property to Suj on a Friday (around 3-4 pm), I was overwhelmed by her call at 8.30 pm informing me that 'she had not forgotten me' and updated me on the situation, as I had been waiting anxiously for a reply from the vendors. Then Suj was on the case and called me first thing on Saturday morning, I'm sure it was just after 8 am. It feels very reassuring know that you are in safe hands when buying a new house, as this is such a big step in one's life.

I am really pleased at the speed at which they have been processing my purchase, and hope this continues until we have the key.

So far I am a very satisfied customer and will definitely recommending Foxtons Ruislip to friends and family.

N.S.

We never had a moment's regret after switching agents to you - we had complete confidence in Foxtons after meeting you, Warren, and you and your team didn't let us down. Joe has been absolutely brilliant - thank you Joe - so helpful and persistent and very 'human' - which not all agents are. Your help is massively appreciated by us. We felt very well looked after - and you got us a great price. If we lived nearer we'd bring in a bottle! Thanks so much - we won't hesitate to recommend your services.

I.R.

Thank you very much for your help from flat viewing to completion of purchase. I am really impressed by your professional and friendly service. You always kept me informed about the progress, responded promptly to any of my inquiries or requests, and made me feel very comfortable during the whole process.

F.L.

I was recently looking to buy a property in Putney. I am sure I met every real estate in the area! Nick was one of the most organised. He contacted me when a property came up that might be suitable, or when one was soon coming to the market. He understood my requirements (property features, budget, location / proximity to tube, ...) and suggested properties that met what I was looking for. This made my search much more efficient. Nick also had the relevant details of the property available e.g. years remaining on lease, ground rent, service charges, etc

5

I am just getting in touch to let you know how pleased I am with the service I have been receiving from Rihanna while I have been looking for a property. I have been searching for over a year and have dealt with many estate agents; of whom Rihanna has really stood out. She really listened to what I was looking for in a property and went out of her way to help me find it, for example coming to show me a property when she was off sick in the afternoon. While I was in the process of purchasing a property through Foxtons she was on top of the situation and handled the tricky purchase well. I have found her both professional and friendly; and is an asset to your team.

S.D.

Oliver and his team (Faiza) took up our property, marketed it at a difficult time (just pre-election), and sold it above the expected price, right away. Brilliant Thank You

S.F.

5

In out recent property search in Putney where we saw 30+ properties with a large number of estate agents, we found that Roberta was the most dedicated and determined individual.

She went out of her way to show us properties, sometimes in her own time, kept us informed about potential properties and gave good advice. She also seems to work all hours.

We didn't need to take the time to write, but she's good - please look after her and give her an hour off now and then.

D.C. & J.D.

Annabel from your Islington Office was my point of contact and she was excellent. She navigated me from the initial viewing of a range of properties through a fairly complicated buying process with considerable skill and charm. The team in the office was also very helpful and I believe the contact Annabel had between us as a buyer and the seller of the property made the buying process much less painless than it could have been. I hope she thrives at Foxtons

F.P.

5

I just wanted to leave a quick note to say how impressed we have been with the work of Gregory. We have been having a tumultuous time to say the least with the purchase of xx and Greg has been instrumental in helping to sort out the issues as and when they have arisen. As first time buyers the help and expertise Greg has offered has been invaluable in the process so far and we are both thankful for his time and effort

A.M. & E.M.

Henry did an excellent job of understanding what we were looking for and providing suggestions and alternatives, even taking us to some places that weren't exactly what we were looking for, sometimes at prices higher than we could afford, just so that we could compare areas, prices and sizes, which I think helped a lot in our decision making. Henry was always calling us when he had a new property available, and was very flexible with his viewing times (within what he had available), and was just always looking out for and thinking about things that could help us, and contacting us straight away when he had something he though was useful.

So I just wanted to pass on our thanks to Henry again, and give him a great recommendation from us, we would have no hesitations using Foxtons in the future, for both the sale of our current property, and when we decide to look to upgrade.

So thanks again to Henry for being such a great help to us, we recommend him highly as a great employee.

R.P.

To Sarah's manager, her personable manner, eye for detail and fastidious follow through have made her a pleasure to have on our house hunt and she will be the first person we consider to represent us when we want to sell this property.
We would also like to thank Foxtons as an organisation for your very useful website, with special mention for the area specific house prices and other data.


J.I. & A.W.

I just wanted to say that you were most courteous and charming and really appreciated it. My son and I have been looking for places for quite a while now (he's found his dream home) and it has been an eye opener. You are quite the exception in estate agents rather than the rule.
I do hope you can pass this to your Manager, and they should know what a gem they have in you.

L.A.

Firstly I would like to thank you Bella for your continuous effort to keep this deal going and Scott for the great professionalism I have found in dealing with you all. Well done and thank you sincerely

S.A.

David at the Sloane Square office was beyond helpful, courteous, amiable and thoroughly professional. He is a credit to Foxtons. Thank you so much

L.W.

5

I just wish to say how impressed I have been with your David of the SQ branch. He has listened to what I have been looking for, and let me know when such a property has come to market. Simple thing to do really, but almost no other agent has done this for me. That is why I have just purchased through your SQ office.

P.D.

I just wanted to thank you personally for thinking of us and making this whole experience bearable. xx is very nice and just what we are looking for. We are really excited about this property. I didn't think I could find anything near as big with huge potential. Thank you again for making this stressful process personable. We are very grateful for your excellent service .

C.B.

I recently sold my flat through the Enfield branch and I have to say that the service I received was second to none-from Topsy coming to value my property to Bertan clinching the deal.

Every member of staff that showed a prospective buyer around was professional, polite and kept me informed with feedback.

I would like to particularly mention Bertan who worked well to let me know what was happening with the sale and the purchase at every point, liaised with the estate agent that I was buying through and with the solicitors. He chased them up when necessary and then conveyed the current situation to me. He was always approachable, personable and informative. It has been a pleasure to work with him.


C. R.

Just wanted to say a big thank you to everyone for all your help and support with the sale / conveyancing for xx. You are all a credit to your respective professions and I won't hesitate to recommend you to friends / family / others in future.

B.S.

I would like to feedback that Brodie was great to deal with and despite some difficulties/complexities with parts of the process he tried to help us much as possible. He went above and beyond our expectations. Thank you!

C. S.

I can only say it has been effortless working with you and Roberta. She has been a star. Courteous and determined, she has been reassuring and conscientious all along the process! Many thanks Roberta.

M. O.

Thanks for the successful sale of xx. I can only say it has been effortless working with you and Roberta. She has been a star. Courteous and determined, she has been reassuring and conscientious all along the process!

M.O.

Thank you very much again for enabling such a result.

If it wasn't for your calm, patient and persistent character, this would never have happened with somebody as fiery and impatient as I am.

Thank you once again for stepping in and making this happen.

I hope to work with you again very soon.

P.N.

Very many thanks for your assistance with our flat purchase.
It was very helpful that you let us know when you were away and who to contact in your absence.
Excellent service from first viewing to collecting the keys.


J.W.

I just wanted to express my thanks for all of your help during the sale of xx. You have both given incredible service, wonderfully professional and friendly.

Phone calls emails have always been answered or returned quickly along with answers to questions and generally good advice.

I would (and have) recommended using Foxtons, particularly your branch, to friends and will definitely be using you again in the future.

Please forward this email into your managers so that they are aware of our great experience working with you.

J.K.

Nadirs services have been to a high and professional standard which i have been impressed with. I would be happy to recommend his services to any friends or family if they are ever looking.

B.R.

I wanted to drop you a quick note to share with you the fantastic experience I have had on my recent purchase with Foxtons – Temple Fortune. Nick helped us immensely with the purchase of a two bedroom flat that was being marketed by Foxtons. He is a true professional and often impressed us with his enthusiasm and optimum communication and drive to get things done in the most efficient manner possible.

We also had the opportunity to meet with Rishi who introduced us to the flat that we eventually bought and completed the purchase. He is a great ambassador for your brand and considering the experience we have had with both Nick and Rishi we will definitely use Foxtons again and would highly recommend to our friends and family.


R.K.

I just wanted to say thanks very much for your excellent and most professional help. As you know we spoke and dealt with many estate agents locally during our search and I can honestly say that no one came close to you in terms of attitude, helpfulness and openness and the whole Foxtons experience was very impressive as a result.

J.M.

I want to put on the record how impressed I was with Jonny and his efforts to find and secure a property for us.
Jonny was never less than efficient, as well as being both unfailingly courteous and humorous. He often went beyond the call of duty by meeting us at awkward times of the day, and spending time reassuring us when at times the deal looked precarious.
In a profession whose reputation for the public sometimes goes before it, Jonny is very definitely an exception to the rule.
I hope not to have to move again for many years... but if and when I do, I'll be ringing Jonny's number first.


C.B.

Chan helped us complete the deal on a new flat in Chiswick. He was quick and professional throughout the process, and relayed information and advice as the situation required. We were very happy with his consultation

J.G.

3

Wanted to mention that Amy with your streatham office has been a real breath of fresh air She was very attentive and is a real asset to any buyer
Please let us know about your experience with Foxtons.