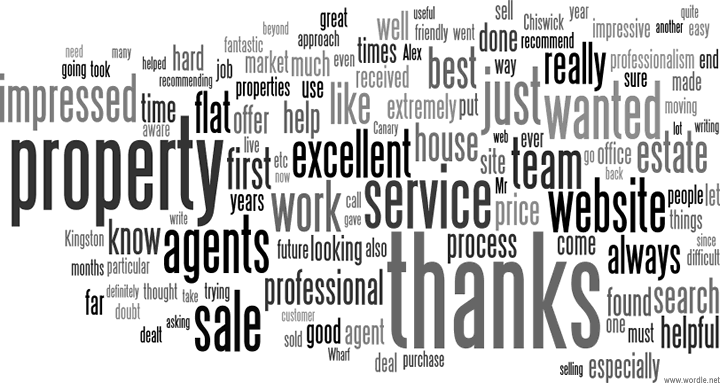 What our clients say...
Thank you very much for all you have done for us in the course of our property search, purchase and sale. We have now moved into xx and are very very happy. Could not have done it without you, your hard work and extraordinary dedication. I will certainly recommend you to all our friends and thank you very warmly for having helped us make a dream come true.

M. L.

I am very happy with the service, professionalism and support I received from Oliver and Brodie. Selling the flat from time of offer to completion happened in just over two months. Brilliant!
Thank you to them both.


M. C-D.

I would like to commend you on each and every one of your staff, with whom we have had dealings; they have been wonderful: professional, courteous, friendly and efficient. Foxtons for us is an amazing outfit and we just wanted to share our thoughts with you.

M. W.

Isabel is a very professional sales agent who is warm and always gives fastest communication. She helped me through my property searching process from the beginning to the end to secure the place I liked, and I thank her for her great effort. I would definitely recommend Isabel and Foxtons to anyone searching a property in central London.

I would like to say that Christiaan Olivier is an outstanding agent and did a lot of work for us to make the deal happen; he is a credit to Foxtons.

P. K.

5

I am writing to let you know what an excellent estate agent you have in Keri. We have been working with her to sell our property in Ruislip which is Grade II listed. It's an unusual property to sell and has a different market for buyers than other houses on sale in this area. She has been really enthusiastic with great communication and took time to understand the history of our Tudor house and make sure her team and potential buyers understand it too. If anyone needs an agent in our area we will be recommending her.

J. B. & A. B.

I found the service that Foxtons provided in my search for my first investment property excellent. It stood out against your competitors, in regards to the way Tom organized the viewing (all very efficient, and combining multiple flats at any one time, which helped a lot in keeping time spent to a minimum), prompt replies to queries, pro-active engagement all throughout the process, always very knowledgeable. Tom also handled the completion process very well, when unexpected information emerged shortly before completion. Also very handy and a competitive advantage to some other agencies are the opening times Foxtons have, as well as the great range of property portfolio. Website of high professional and standard, always include floor plans (unlike some other agents), very good photographs. I would certainly recommend Foxtons as an agent and specifically Tom as a sales person to any other customers.

R. C.

5

I am writing to let you know how much I appreciate the outstanding customer service from your staff and truly impressed by your service. I want to compliment one of your excellent employees, Joanna. She went to great lengths to help us when we were looking a flat to buy. She listened very carefully to what met our needs, very knowledgeable about the market and seemed genuinely interested in helping us and keeping in touch all the time with information and properties in the market. I have always been a loyal customer with Foxtons over the years, and Joanna's extended help is a prime example of this. You have put together a great team that makes customers feel respected and valued. Please let Joanna know that her efforts did not go unnoticed. Such service builds great working relationships. I will continue and look forward working with your company again in the future and I will recommend it to others.

S. L.

4

We dealt with Jas and Paul over the purchase of our flat in Acton. Both were extremely helpful. They were always very prompt and great at keeping us up to date on the progression of the sale. We were very happy with the service.

H. W.

4

Great experience thanks to Tatiana & Jas professionalism
& pro-activity. We will definitely use Foxtons Ealing for our next property sale.


R. G.

Thank you for your help when I was searching for a new house. You were the paragon of good manners and calm professionalism. You were one of the two individuals out of the many I dealt with who were worth their salt.

F. S.

We have used Foxtons over the years and always had efficient helpful service. Stan Fung went beyond the call of duty and was exemplary in his help, support, advice and communication. For this property and for our previous dealings with Stan in 2014 he has displayed a wonderful ability to get on with the job and communicate with all his team and others involved in a cheerful helpful and enthusiastic manner. He is a real asset to Foxtons organisation.

J. M.

5

Completion is now done and wanted to thank you for your thorough and excellent sales approach and guidance at all stages.
... also thanks for helping to choose the right buyer. I wish you well in your future endeavours and once again thank you for getting this across the line.


S. K. & T. K.

Thank you for all your help with selling our flat. Despite it being a very stressful and bumpy road for us we are extremely happy with the service you provided. Thank you.

Orly, you are one in a million and your professionalism and sense of great customer service is incredible. Your approach has completely restored my faith in real estate agents.

We wish you both the best and hope to work again with you in the future, maybe whilst we are buying next time.

K. V. D. B.

I have received a fantastic service from Alastair and Mike particularly in Mike's persistence in dealing with the purchasers and chasing solicitors, mortgage brokers etc. on this difficult protracted sale. We previously purchased through Foxtons and dealt with Alastair. We had great service then so returned to sell via Foxtons. I would definitely use Foxtons again and recommend to others. Please pass on my comments to them and also to their line managers. Thank you.

J. P.

5

The agent Hexin is what we thought what an estate agent should be. She was accurate, articulate and sympathetic as well as pleasant.

A. T.

My Husband and I would like to thank Nick for all his hard work and dedication in selling our apartment. We will definitely recommend Foxtons to our friends and family as they have exceptional customer service and their staff are well trained and professional.

J. J.

I am writing to provide some feedback on my experience with the staff at Foxtons Temple Fortune. Late last year I started seriously looking for a flat. As a first time buyer the unknown of the process can be quite daunting.
After enquiring about other properties online and making contact with Rishi, I was quite unlucky at first and everything I showed interest in seemed to sell before my viewing appointment was due. Despite this Rishi really persevered and kept good contact. I found him to be sufficiently knowledgeable, very professional, very helpful and overall just a pleasant young man. I felt he understood what I was looking for and felt he was acting in my best interest to help me find something within those constraints. He is nothing short of a little star and made the search process enjoyable.
Once the first offer went in Nick became my liaison at the branch. I found him too to be very knowledgeable about the process, patient, willing to help and optimistic and encouraging. Together they helped me a lot through this first purchase. Their advice and support took the stress out of a daunting process. I am grateful for their service. I would definitely do business with them again and if asked an opinion on Foxtons Temple Fortune I certainly know what I will say.

C. C.

I wanted to let you know how fantastic Will has been throughout my search. I've dealt with a number of agents as I'm sure you can imagine, but Will has been the best in keeping me up to date, in being flexible for arranging viewings, and generally helping my search progress through his professionalism. I really appreciate his time and when it comes to selling, he will be the first person I contact.

W. S.

Just a note to say I am in the new flat and to thank you for all your efforts. You have been an excellent estate agent throughout this difficult transaction - always calm, ready to help in any way, and always keeping me informed (much more than my own solicitor!).

P. Y.

I just wanted to send a note to say how much we enjoyed house hunting with Scott and what a pleasure he was to work with. He is always super accommodating, eager to help and so much nicer, friendlier and genuine than all the other estate agents we met during our search. He was always very quick to respond to emails and his communications were always very clear and relevant (and not at all excessive!) He found the right properties for us to look at, was always equipped with the right info, offered useful advice and did most of the hard work for us!

A. B.

5

I want to say, how impressed I am with the most efficient way Christiaan conducted the sale of my central London garage. There were 2 very keen buyers, from Foxtons and a competitor, so transactions and prices kept rising. However he secured the best deal for me and closed the purchase in very good time. Thank you Christiaan! Jolly good work!

M. L.

5

I have been involved with many local estate agents and salesmen and women over the last year, and would like to say that Sophia easily stands out as the most hard-working, efficient, enthusiastic and helpful person I have come across. She always got in touch when she said she would, and was very good at remembering what my requirements were.

F. C.

5

I bought a property from your sales agent, Tom. I've bought quite a few properties in the past, and was extremely impressed with the service and assistance offered by Tom. He was very professional, always honest and a pleasure to have dealt with on the transaction. My solicitor and surveyor also commented on his efficiency.
It made the house buying, exchange and completion process much, much easier than past experiences. He is an asset to your branch and the group.

J. N.

I wanted to write and let you know how impressed I was with the level of service and professionalism that I received from both Karen and Renna through the whole process of trying to sell my property.

Renna was my daily point of contact as we tried to get the sale through and she showed amazing determination and continuity in pulling together all of the different people and agencies involved. She always returned my calls and was super pro-active in the process.


M. L.

I struggle for the words to describe how impressed I am with you guys. But here goes. Andrew and all the others at the Shoreditch and other offices have been consistently brilliant. Very energetic marketing going on, as well as responsive, self-assured and easy communication at all times. In about 13 years at three top investment banks working as a market maker, I worked with many excellent sales teams; you guys could teach most of them a thing or two about energy, positivity, product competence and communication. Andrew was an intelligent, easy and communicative point guy. And Ashraf who got the amazing offer and carefully saw it through to completion.

A. K.

I am writing to you in relation to the service I recently received from the staff at your Crouch End office. I contacted the office after a sale which had been agreed on my property through another local agent had fallen through. I felt that the agent involved had mis-handled the sale, resulting in a lot of lost time. As I do not live locally, I called Miriame who carried out a valuation of the property.

From the start of the process I felt that Miriame had a real appreciation of the merits of the property and understood how it needed to be marketed. She had enough confidence in the property and courage of her own convictions to suggest marketing at a figure 10% higher than the previous agent.

After a few weeks, Kate put forward an excellent offer from a first time buyer, which we were delighted to accept. There were a few delays and complications during the conveyancing process, due in part to the inexperience of the buyer. At every bump in the road, Kate and Miriame were able to skilfully manage the situation. It was really refreshing to deal with proactive agents, able to anticipate potential problems and take the initiative to get the deal through. As a former estate agent, I appreciate the huge effort that this requires and would like to put on record how grateful I am for the work that they put in.

You have a very capable team in Crouch End and I would not hesitate to instruct or recommend Foxtons in the future.


J. S.

5

I am glad I went with Foxtons. They have been easy to deal with, professional and patient. I dealt with Oliver who works for the Stratford branch. He was really good and patient. He showed us properties we wouldn't think about and ones we have requested. We ended up purchasing a property that he took the initiative to look for. It is such a great home and was an effortless process. I would highly recommend Oliver to anyone looking for a home or mansion. He is the best estate agent I dealt with.


H. A.

5

I would just like to extend my feedback to say how refreshing it was to be looked after so well by Jack at the Earlsfield branch. We have dealt with a great deal of estate agents on our property search and Jack by far stood out as the most professional, hands on, helpful, communicative and dedicated salesman who went above and beyond for my husband and I. We were so thrilled to finally find our dream home and this was down to all of Jack's efforts. Jack and Foxtons Earlsfield (including Ed who was equally as efficient), we can't thank you enough. I will certainly be recommending Foxtons Earlsfield to friends who are also on the property hunt at the moment.

V. & G.

5

We would like to say and express our greatest appreciation to Dhrumil and Keri for their efforts for buying our first home.

Especially, Dhrumil, His attitude to his work is very professional with continuous positive feedback on the choices we are making. Sincerely we wish him all success in the future. We are extremely happy and highly recommend Dhrumil to anyone.


R. P.

I'm writing to provide some feedback on David who helped me find a house recently.

From when I first met David at Foxtons in Guildford until the completion of my house purchase, David provided consistently outstanding support and advice.
David quickly learned about the sorts of houses I was looking for; he worked hard to find suitable properties, and was flexible fitting into my schedule to arrange viewings.

Since I had not owned a property in the UK previously and had recently returned from living abroad, David provided very helpful advice about the housing market, the sale and purchase process, etc. and he was always willing to answer any questions I had.

Once we had identified a house, again David was extremely helpful advising me on the process, suggesting solicitors I could use, helping to broker things between the seller and I, and he worked proactively to try to move the process forward as quickly as possible.

Throughout the process, David's positive, proactive and helpful mind-set was outstanding. It was a pleasure dealing with him, and I found him a model as an estate agent and in terms of his customer service.


J. M.

I just wanted to thank you for all you have done to help us purchase xx.

You have been patient and taught us what to look for in a buy-to-let property, and I'm sure the flat we've bought will prove to be a great investment.

Thanks again and I will have no hesitation in recommending you to anyone else I know who is looking to buy a property.

D. K.

Loui at Kingston was SUPERB, without his drive to get things done we'd still be waiting and the whole deal may well have collapsed. He is a credit to your company and was 100 times better than the agents I sold with!

M. O.

Ryan is a fine ambassador for your company and also for the estate agent industry in general; very polite, helpful and also very knowledgeable. 5/5, top marks!

T. R.

Matt has time and time again gone beyond the expectations I had. He has been extremely helpful, resourceful, clear and concise at every appointment. In follow-ups he has always been friendly, knowledgeable and ready to go that extra mile which I have not found any other estate agents too readily and happily do. I'm happy with the service he has provided and it's nice to not feel like just another number to another estate agency, as it is clear Foxtons is more in touch with their customers' needs than any other.

S. W.

5

I wanted to say what a fantastic job Jas did in selling our house in West Acton. We live in Australia and I was a little nervous about selling the property from overseas but Jas advised us brilliantly, was extremely professional and handled the whole business brilliantly. I am so glad I appointed him to sell the house and have no hesitation in recommending him and Foxtons to any of my friends. He is a credit to the company.

F. P.

5

Your agents were very kind and professional at all times, it was no mean feat working with a 96 year old resident who was leaving the only home she had known her entire married life.
I would especially like to mention Nicole, who is a credit to Foxtons. Nicole has the quality you hope for in an agent, but rarely find. Aunt was very taken with her as she took the time to listen to her concerns about the move, and still move forward with the sale.
I am pleased to say that Aunt is now happily residing close to her family, and busily making refurbishments to her new home. Thanks to you she is in her new home in time for Christmas.
Thank you Foxtons, I shall not hesitate to recommend your team to anyone selling in the area, or indeed, anywhere in London.


C. M.

I would like to put on record how impressed I was with the service received from Tanya at your Beckenham office. She was always pleasant when showing me properties, professional without being pushy. A pleasure to deal with.

A. G.

The staff were extremely friendly, clear and concise with regards to the sale of my property. I really appreciated the excellent communication and continuous updates that were received.

5

I am most sincere when I say I feel that I had the absolute pleasure to be guided by Joel and I would like to commend him on his exemplary management of the process throughout. As I'm sure you're aware, the purchase and moving process can be stressful and dealing with Solicitors and slow processes can be rather painful. Joel was consistently active, reactive, available and always extremely pleasant and genuine. I extend my sincerest thanks to him, and would like my comments to go on record because you really have an incredible person working for you! I wish him the very best with his career and no doubt he will have much success.

M. O.

Judith and I would like to thank you Joe, and all your team, for the excellent and professional way that you helped in selling our apartment from the initial marketing through to the final completion. Sam is a credit to your company; being extremely helpful, supportive and hands on throughout the whole process, always there when we needed him and extremely professional in everything that he did.We certainly would be happy to recommend you to any associates, colleagues and friends in the future. Thanks again for all your help.


J. K. & G. K.

I bought a house through the Pimlico branch. Charlie was a great negotiator and worked extremely hard to keep me informed of the progress and guiding me through the entire process, from finding the property to final completion. Top bloke as well.

G. M.

5

I recently completed on a property and would just like to say that the agent involved in the purchase and viewings prior to it, Laura, was excellent. She was at all times professional, attentive and was skilfully able to identify my needs and match them to suitable properties. Laura is a credit to Foxtons.

R. R.

We would like to thank Carly for her efficient professional and pleasant way in which she helped us. It was a pleasure knowing that she was on the other end of the line when we needed information or to arrange viewings etc. Thank you Carly, wishing you well in your job.

J. S.

I just wanted to say how impressed I am with Vicci. She has been very efficient, patient and most of all informative at every step of the way during my sale with Foxtons. I knew that I could trust her and rely on her when I was too busy to chase things up. Thank you to Chris and the whole team. I am pleased to say that I have been telling all my family and friends about the service I have received from Vicci. I will definitely use Foxtons Greenwich again!

W-M. C.

5

I would just like to leave some feedback for Stuart of the Canary Wharf branch. His attention to detail and assistance in searching for our requirements was absolutely outstanding. We were in touch with around nine agents of various companies but Stuart's service was by far the best we experienced.

T.

Foxtons at Willesden Green recently sold my flat in Kensal Green and I wish to record how satisfactory I found the whole process. I doubt whether any other agent would have got such a good price and was impressed the way things were handled all the way through by Brodie and David, both of the Willesden Green office. I would have no hesitation in recommending Foxtons to a friend/associate, or to use them myself again in future.

I.

5

Now that we've completed on the sale, I just wanted to say a huge thanks to both of you for making it happen. Josh, you were absolutely fantastic in securing an offer from committed and motivated buyers, after a long and difficult history with the flat. James, you were completely brilliant in making sure the whole thing went through and communicating with me and everyone else. At all times, I was really impressed with your professionalism. I felt I was always kept up to date and in really safe hands. This sale is so important to us and I'm really grateful to you both for making it happen.

I would like to thank Patrik from your Islington branch. We met many estate agents in our search for a flat, but my husband and I both agree this young man stood head and shoulders above the rest. He is to be congratulated on his professionalism, manners and tenacity.

P. K.

I just wanted to comment on the wonderful service I received from Chloe at Foxtons Beckenham. Chloe was extremely friendly, helpful and professional in all my dealings with her. She kept in good contact with me and always returned my calls quickly. She worked very hard for our sale and I really appreciated her. She is the reason I would recommend Foxtons.

C. M.

5
Please let us know about your experience with Foxtons.