In the late nineteenth century, demand for prime London property was checked by a lack of available land for development. The solution was a new class of apartment building: the mansion block. We take a look at the history of these beautiful Victorian and Edwardian homes and explore a range of available properties from £449k-£5m+.
"At a challenging time for prime central London real estate, mansion block properties are swimming against the tide and retaining their appeal as well as anything else in Zone 1."
Felicity Walker is our Operations Director for Prime Sales, and has extensive experience dealing with this type of property. She summarises the main reasons for their sustained popularity: "Mansion blocks are a brilliant investment; solid, well-run and well-laid-out."
What are mansion blocks?
Mansion blocks are apartment buildings from the Victorian or Edwardian eras, often constructed from red or yellow brick. They tend to be found in more prestigious areas of the city, offering ornate facades and lateral flats with period features and high ceilings.
After a significant housebuilding push during the 18th and early 19th centuries, land in desirable London locations was becoming scarce. Wealthy buyers still wanted homes in these areas, but blocks of flats were then perceived as housing for the lower classes or foreign buyers. House builders took a big risk by trying to change this association, but the early success of developments such as Kensington's Albert Hall Mansions cemented the popularity of the mansion block.
Mansion block vs. period conversion
Buyers and renters looking for a period apartment in London's more upmarket areas generally now have the choice of either a conversion property or a mansion block flat. Georgian townhouse conversions are popular but mansion blocks offer a variety of attractive benefits that house hunters may not be aware of. Felicity Walker explains the particular appeal of these heritage homes:
"Mansion block flats offer period charm with a historically lower price point than conversion apartments in Georgian properties, and are particularly attractive to families," she states. "Although some people prefer the white stucco-fronted Georgian style to the red brick of mansion blocks, they offer a range of benefits that most period conversions of Georgian townhouses will not."
"One appealing feature – for families in particular – is the inclusion of a lift in many mansion blocks," she adds. "The majority of conversion properties will not have a lift."
Purpose-built
"Mansion blocks are a brilliant investment – solid, well-run and well-laid-out"
As Felicity goes on to state, mansion blocks are purpose-built as apartments, often giving them the edge over conversion properties in terms of space and practicality:
"Mansion block apartments also benefit from more proportional layouts as they are purpose-built as apartments and enjoy better zoning – with living areas on one side and bedrooms on the other. More lateral space is offered, whereas some conversions can suffer from wasted areas of space due to awkward layouts.
"Another attractive feature of mansion blocks is the quality of soundproofing between floors. Being specifically designed as individual homes, the space between the ceiling and the floor above in these properties is much wider than you would find in a period conversion."
As well as imposing exteriors and often marble-floored hallways, most mansion flats also offer plenty of original interior features.
"Mansion blocks offer a wealth of period details, such as picture rails, cornicing, fireplaces, large windows and high ceilings (some up to 5m high). In my experience they are also, without exception, extremely well-managed. Porter services are usually included, offering excellent security and providing an additional draw for buyers."
Ambrosden Avenue, Westminster, SW1P
Studio flat | £449,000
This prestigious block on Ambrosden Avenue is enviably situated in the heart of Westminster, within sight of Westminster Cathedral and just moments from St James's Park. The bright and spacious interior offers a modern bathroom and a well equipped kitchen.
Elm Park Mansions, Park Walk, Chelsea, SW10
2 bedroom flat | £850,000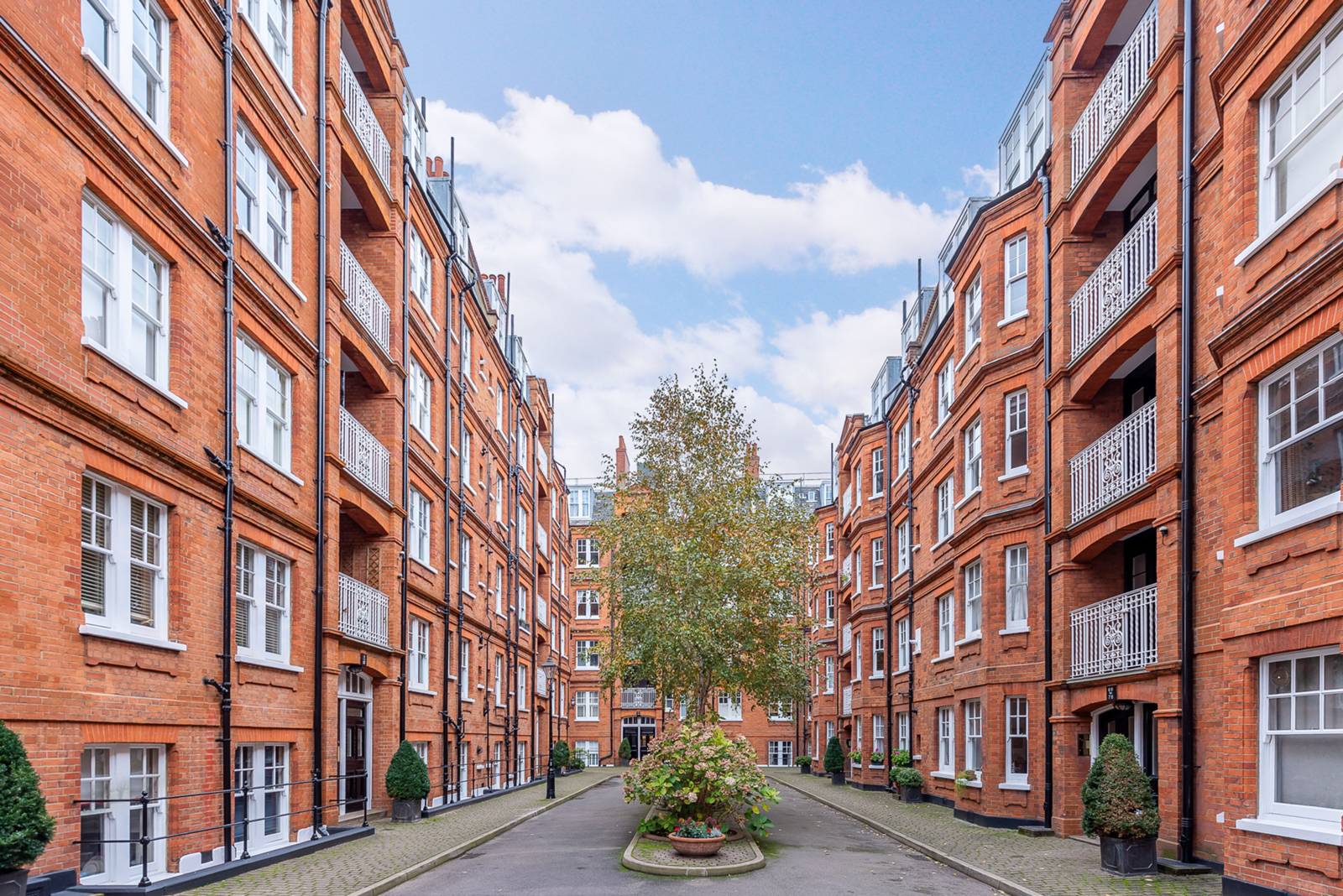 A secure residential development in a fantastic location in South Kensington. Elm Park Mansions is built around a beautiful communal courtyard, providing a sense of exclusivity and seclusion from the hustle and bustle of the high street. This two bedroom apartment is set on the third floor and boasts naturally lit, spacious interiors.
Marloes Road, Kensington, W8
£1,950,000 | 2 bedroom apartment
This striking red brick mansion block sits in an enviable location in Kensington. With the Kensington Palace Gardens and the shops and cafés of Kensington High Street just a short walk away, this is one of London's most prestigious areas. Boasting an impeccable interior, along with lift access and a porter, this two bedroom apartment offers fantastic living potential.
Knightsbridge, Knightsbridge, SW1X
£2,750,000 | 3 bed apartment
Right in the heart of upscale Knightsbridge, this beautiful apartment boasts lush interiors inside an imposing period building. Underfloor heating, bespoke cabinetry, and access to a concierge and lift are just some of this luxurious property's wonderful features. The location is unrivalled—One Hyde Park is just across the street, and Westminster's finest shops and galleries are just around the corner on Victoria Street.
Egerton Gardens, Knightsbridge, SW3
£4,500,000 | 3 bed maisonette
Egerton Gardens is a highly sought-after terrace in Knightsbridge, moments away from the boutiques and restaurants of Brompton Road. This beautifully positioned apartment offers stunning bespoke interiors throughout, with three double bedrooms that each feature an en-suite, along with direct access to the beautiful communal gardens.
Albert Hall Mansions, Kensington Gore, Knightsbridge, SW7
£5,950,000 | 4 bed apartment
A magnificent apartment in a stunning apartment block in an incredible location. The mansion blocks of Kensington were instrumental in popularising this architectural style, and the Albert Hall Mansions are among the cream of the crop. This prestigious apartment block can count two of London's most iconic attractions as next-door neighbours: Albert Hall and Hyde Park. The interior is no less extravagant, boasting high ceilings, large windows, and bespoke fitted wardrobes in all bedrooms.
Search all our properties and filter by size, location, schools, drawn area and more.